Bowman Cycles releases first 'ultra modern' steel frame
Bowman Cycles releases the Layhams steel frame, marking a new direction for the British brand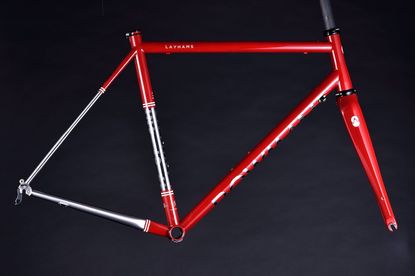 British brand Bowman Cycles has released its first ever steel frame, marking a new direction for the company.
Why the change of direction? "Stainless steel resists the worst that any winter can throw at it, while offering enough comfort to allow you to come back for more", the brand says.
Buy now: Bowman Cycles Layhams Frameset from Bowman for £1,600
In particular, that comfort is added through wider tyres and a 27.2mm seatpost, which Bowman claims will keep you going for longer.
Just because it's steel, doesn't mean the bike is old school, though. Bowman Cycles is keen to assert that it's a "contemporary take on the classic winter training frame".
In fact, the Layhams is brought into modernity thanks to its carbon fork and Di2 capabilities.
>>> New Dura-Ace key details and first ride
That said, it's still possible to run the bike the old fashioned way, with external routing.
Bowman says that it "favoured external cabling for mechanical gearing to ease on-the-fly maintenance and lubrication", but recognises people may want to run it with electronic shifting.
To maintain the clean looks, it developed a "removable cable routing system", which supposedly leaves no bosses in place when running an electronic setup.
Watch: Six weight loss tips for cyclists
The new Layhams frame is billed as the do-it-all bike. According to the brand, the bike "marries year-round dependability with the prospect of two-wheeled adventures".
On paper it certainly looks good. According to the brand, the steel frame can accommodate 28mm tyres and mudguards with no problem.
What's more, the frame comes with a no-nonsense, 68mm threaded bottom bracket, which should make maintenance a cinch.
Buy now: Bowman Cycles Layhams Frameset from Bowman for £1,600
Bowman Cycles claims that the bike is a "year-round bike" that "encourages, inspires and excites" regardless of the weather conditions.
Thank you for reading 10 articles this month* Join now for unlimited access
Enjoy your first month for just £1 / $1 / €1
*Read 5 free articles per month without a subscription
Join now for unlimited access
Try first month for just £1 / $1 / €1