Canyon Ultimate CF Evo: Canyon's 'most technically advanced' frame ever
Canyon has released the Ultimate CF Evo, which the company claim to be its most technically advanced frame ever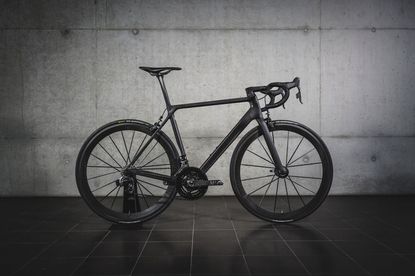 Meet the Canyon Ultimate CF Evo, Canyon's brand new, top tier Ultimate model. A bike where technological advances are the name of the game.
The German company claims that the new model is its 'lightest, most technically advanced framset ever'. An accolade they credit to Canyon's curiosity and desire to push engineering boundaries.
>>> Canyon Aeroad CF SLX 8.0 Di2 review
According to the company the frame itself weighs 665g while the fork is a featherweight 270g.
Canyon claims that the secret behind the new, super lightweight bike is the carbon layup. Something that it apparently has worked intensively on.
The Canyon Ultimate CF Evo frame consists of "ultra-high modulus pitch-based fibres" which according to the brand required special access to the Japanese Ministry of Defence.
So, what's so special about these top secret fibres? Well, according to the direct sales brand, they deliver "unheard of levels of stiffness and responsiveness" while still weighing very little.
Watch: Canyon Ultimate SLX
The new Canyon Ultimate CF Evo model comes in two builds: The 10.0 SL and the 10.0 LTD.
In an attempt to keep the weight down Canyon has specced some of the most lightweight components that they can find.
The Canyon Ultimate CF Evo 10.0 SL rolls on Meilenstein Obermayer tubulars with ceramic bearings, which supposedly weigh only 935g a pair.
However, the top end Canyon Ultimate CF Evo LTD comes with top of the range, lightweight Meilenstein clinchers, the "most exclusive full-carbon clincher in the world".
>>> Canyon equips the Aeroad, Ultimate and Endurace with disc brakes
While the 10.0 SL comes with SRAM Red 22, the 10.0 LT comes with SRAM Red eTap and THM Clavicular M3 cranks – supposedly the lightest of their kind to come with an SRM power meter.
Stopping power is provided by THM brakes which, according to Canyon, only weigh 120g a piece.
Both bikes come equipped with Canyon's own Aerocockpit. A carbon fibre bar and stem combo that Canyon claims delivers the perfect balance between watt-saving stiffness and ergonomics.
Apparently, ergonomics were as important as weight to the company who didn't want to lose the "energy-boosting compliance of the Canyon CF SLX". 'Ergonomics' then, are at the heart of the new bike.
For this reason, both bikes come with their S15 VCLS 2.0 seatpost and its 'leaf spring design'. Apparently, this counteracts road shocks and vibrations.
Thank you for reading 20 articles this month* Join now for unlimited access
Enjoy your first month for just £1 / $1 / €1
*Read 5 free articles per month without a subscription
Join now for unlimited access
Try first month for just £1 / $1 / €1