'Technology has caught up' – Canyon equips the Aeroad, Ultimate and Endurace with disc brakes
Canyon has released disc equipped Aeroad, Ultimate and Endurace road bikes, claiming that disc performance has "caught up".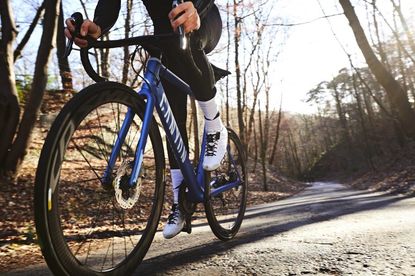 Alongside the previously announced Endurace CF SLX, the company announced that they'll be releasing the Aeroad CF SLX, the Ultimate CF SLX, the Ultimate CF SL in disc form, as well as a new Endurace CF SL.
The German manufacturer says they have been experimenting with disc technology for years. However, they didn't jump on the trend right away, but now feel that "technology has caught up". In other words, they now feel disc performance has reached a level suitable for road bikes.
The company says they've re-engineered the bikes from the ground up so as not to compromise ride and handling performance.
Canyon cites a number of reasons for switching their range to disc brakes – including control and clearance.
The added modulation of disc brakes allows more intelligent braking – "the better you can brake, the better you will ride". Plus, they claim you can run wider tyres for greater grip thanks to the removal of the rim brake callipers.
So, what have they changed? For starters, the new bikes are equipped with front and rear 12mm through axles for added stiffness and to help counter the great braking forces.
The brakes are of the flat mount standard kind favoured by the industry, so if you want to swap parts, it should be easy enough to do. As standard the bikes will come equipped with 160mm rotors.
Most importantly though, Canyon has altered how it constructs the bikes. According the company, they now reinforce the non-drive side of the bike so that it can handle the greater braking forces that can comprise frameset performance.
Watch: Canyon Endurance CF SLX first look
What about the added weight, or the loss of aerodynamic performance?
Well, Canyon claim that these issues are negligible but they do admit there's a loss of performance. "We're talking grams, not kilograms", according to the company. 70 grams, to be precise. Or at least that's what they claim.
Likewise, they claim that only 3.3 watts stands between the Ultimate CF SLX disc and its rim brake brethren. "The difference stems from the disc brakes themselves, yet more importantly from the disc-specific wheelsets".
Thank you for reading 5 articles this month* Join now for unlimited access
Enjoy your first month for just £1 / $1 / €1
*Read 5 free articles per month without a subscription
Join now for unlimited access
Try first month for just £1 / $1 / €1