Chris Froome's Muc-Off Nanotube Chain now available to buy
Claimed 10 watts saving over CeramicSpeed's top chain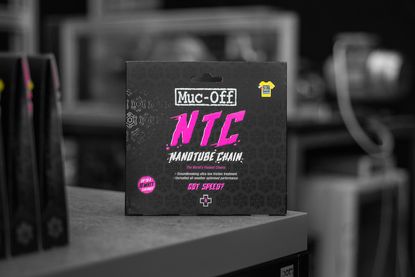 The new chain, launched today, boasts lubrication with graphene nanotubes, which Muc-Off says are state of the art. It was used by Team Sky and Chris Froome on his way to his 2017 Tour and Vuelta victories.
Muc-Off first sonic cleans a standard Shimano Dura-Ace chain before the proprietary lubricant is applied. It says that its formulation penetrates each link to provide a smooth and highly durable friction reducing coating.
Muc-Off says that its treatment delivers excellent performance in all weather conditions. Its tests show that the performance of wax based treatments quickly degrades in dry conditions.
It's tested its Nanotube Chain against CeramicSpeed's top Shimano UFO chain over a race distance on its in-house dynometer. Whereas CeramicSpeed's chain showed high efficiency for the first few minutes, this rapidly deteriorated after around 18 minutes. In contract, Muc-Off says its own chain continued to get faster, with its advantage reaching over 10 watts after four hours of riding at 250 watts or more.
http://www.youtube.com/watch?v=agNS-PlbWYI
According to Muc-Off Managing Director, Alex Trimnell: "The NTC is what we've been dreaming about ever since we launched our first ever bicycle chain lubricant in 2005. We've come a long way since then, working with some of the world's top athletes and teams to push drivetrain optimisation to its absolute limit, and we're happy to say that we can offer the fastest treatment we've ever developed.
"Critically, our nanotube formula lasts for hundreds of miles in all weathers without the risk of a severe performance drop off, which can easily happen with a wax-based treated chain after a very short period of use."
>>> How to lube your chain (video)
As well as its Nanotube Chains, Muc-Off also sells top up Nanotube Lube, so you can reapply it yourself, extending your chain's efficient working life.
The price of the Nanotube Chain: £109 or $150, while the lube sells for £49.99 or $64.99 for a 50ml bottle.
Thank you for reading 5 articles this month* Join now for unlimited access
Enjoy your first month for just £1 / $1 / €1
*Read 5 free articles per month without a subscription
Join now for unlimited access
Try first month for just £1 / $1 / €1