Customise your Sidi shoes with swappable closures
High end Italian cycle shoe company Sidi has launched a range of swappable components for tis shoes, available in different colours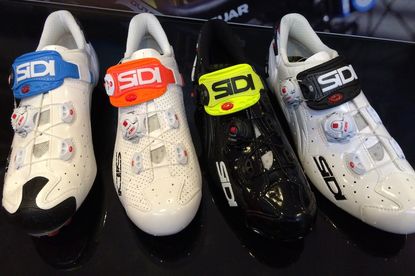 If you've got a pair of Sidi Wire, Ergo 4, Kaos or Genius 5 road shoes, you can now customise your shoes with swappable components to change the overall look. Sidi's high end shoes have swappable buckles and top strap cuffs and the brand is offering these in a range of different colours.
The Wire Carbon and the Kaos also come in Air versions with micro-perforations in their uppers to increase air circulation. Sidi also makes wider fitting versions of its Ergo 4 and Genius 5 shoes.
>>> Are carbon soled cycling shoes necessary?
Dependent on the model, swappable components include the top strap and its cuff, which Sidi calls its Soft Instep Closure System, as well as the buckles and Techno-3 Push lacing dials. Currently the available colours are orange, blue, black, yellow and white. We saw examples of the customised cuff on Saddleback's display at Core Bike, with the buckles to follow but not yet available in the UK.
>>> Cycling shoes buyer's guide
Saddleback were also showing off Tony Martin's well-worn Sidis complete with World Champion stripes on the side.
>>> Are lace-up cycling shoes here to stay?
And pride of place on the Sidi (opens in new tab) display went to the custom yellow Wire shoes worn by Chris Froome on the Tour de France. The Wire is Sidi's top of the range shoe, with an ultra-stiff carbon sole and synthetic upper with adjustable heel cup. They're available to buy in a variety of colours from white through to black via fuscia for around £300.
Thank you for reading 5 articles this month* Join now for unlimited access
Enjoy your first month for just £1 / $1 / €1
*Read 5 free articles per month without a subscription
Join now for unlimited access
Try first month for just £1 / $1 / €1