Czech made 760 gram Duratec Phantom comes to Bespoked show
Duratec claims its Phantom full monocoque frame weighs just 760 grams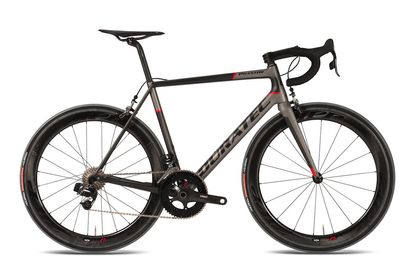 Duratec is based in the Czech Republic, with its bikes distributed in the UK by Bicycles by Design. The Phantom frameset uses a production process in which the frame is made as one piece, rather than being constructed as subcomponents, such as a rear triangle construct, which are then bonded together.
>>> GB cycling team to be clothed by Czech brand Kalas in four year deal
Duratec has teamed up with Czech paralympic champion cyclist Jiri Jezek to help develop the bike, as seen in this release video.
http://www.youtube.com/watch?v=WWy6MDYm_80
Making frames since 1997 and working with carbon fibre since 2001, Duratec still hand assembles in the Czech Republic, with the Phantom made from top grade Toray and Granoc Japanese-made carbon fibre, bonded with Nanoalloy resin. It says it's developed its own technologies and tooling in producing the new frame.
>>> Do carbon frames have a shelf life?
The frame is made up of around 400 separate sheets of carbon fibre, with the design aiming to use the longest possible uninterrupted stretches of fibre to increase strength. The Phantom frame has recently been given the UCI's seal of approval for racing and bears its UCI sticker.
Kitted out with SRAM Red eTap and Zipp 404 wheels and a 3T Rigida Team fork, Duratec claims a weight of 6.15kg for a complete bike. It offers other builds and custom colour scheme and configuration options, with the entry-level SRAM Force bike with Fulcrum 5LG wheels coming in at around £3700, as well as a completely bespoke build option. For around double that you can get a SRAM Red eTap, Campagnolo Super Record or Dura-Ace Di2 build, all with Zipp 303 wheelset.
>>> Cheap Chinese carbon frame imports: are they worth the risk?
The Phantom will have its UK debut at Bespoked 2017 in Bristol on April 7 to 9.
Thank you for reading 20 articles this month* Join now for unlimited access
Enjoy your first month for just £1 / $1 / €1
*Read 5 free articles per month without a subscription
Join now for unlimited access
Try first month for just £1 / $1 / €1