Disc brake Battaglin Power+ steel frameset launched
New variant with new colour scheme joins the rim brake model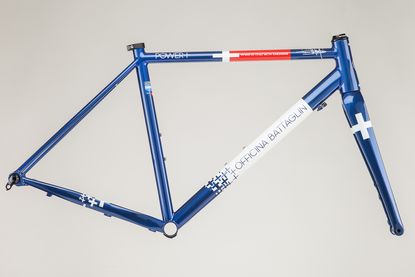 (Image credit: Mirco Vettore)
Officina Battaglin hand builds its steel frames in Italy, with the Power+ being a modern fillet brazed frameset, designed to be kitted out for a more modern look than the brand's retro machines.
Battaglin has now brought out a disc brake version to be sold alongside its existing rim brake bike.
>>> Full Dynamix steel gravel bike launched by Battaglin
The disc brake bike is still made from Columbus Spirit triple butted tubing, but comes with a blue-base colour scheme rather than the rim brake bike's black or white. It features oversized main frame tubes for a chunky look. Battaglin says that it's a contemporary reinterpretation of one of the best-selling Battaglin steel frame in the 90s ridden by the Refin pro team.
According to Giovanni Battaglin, the owner of the brand: "The old Power+ was one of the most appreciated steel bikes of its era. We still get questions about it by customers and collectors, and this means people still like it. The '+' symbol is something that draws attention because it's unusual."
>>> Giovanni Battaglin's Giro d'Italia winning Pinarello
Battaglin was one of the foremost racers of his generation, winning both the Giro d'Italia and the Vuelta a Espana in 1981.
"We've been working with Columbus since the early 80s. It's a strong collaboration between two Italian brands who still innovate with steel. Today Columbus can produce stiff, lightweight tubing like the new Spirit HSS.
>>> The 25 most stylish cyclists of all time
"You can build a steel frame that weighs less than 2 kilos, and if you assemble it with lightweight carbon wheels and components the complete bike can be less than 7.5 kilos," he continues.
Although the Power+ Disc's frame is steel, it comes with an all-carbon tapered fork with internal brake hose routing. It also features 12mm front and rear thru-axles and an English thread bottom bracket shell.
Thank you for reading 20 articles this month* Join now for unlimited access
Enjoy your first month for just £1 / $1 / €1
*Read 5 free articles per month without a subscription
Join now for unlimited access
Try first month for just £1 / $1 / €1