Endura launches two new road helmets
Pro SL helmet uses a Koroyd shell for increased crash protection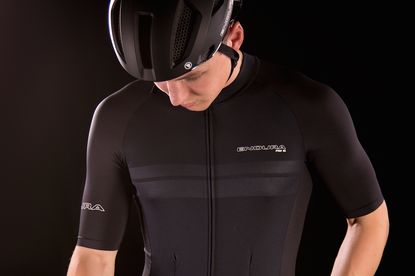 Endura's new Pro SL helmet uses Koroyd protection in place of EPS foam. It has had an MTB helmet using Koroyd for some time and the system is also used by Smith for its high end helmets. Koroyd's open cell structure is designed to be more collapsible than EPS and Koroyd claims that its tech offers significantly better crash protection than that required for CE certification.
Priced at a penny under £150, Endura says that the Pro SL helmet is also lightweight and particularly well vented, with the open structure of the Koroyd shell and the large vents helping airflow.
Endura sells the Pro SL helmet in three sizes, with fit being adjustable via the multiple position retention system and micro-adjuster dial. There's an antibacterial wicking inner liner, with Endura supplying a spare set in the box. There's a glasses dock at the front of the helmet for when you want to ride without your sunnies on.
>>> Best bike helmets reviewed
Endura sells the Pro SL in white, black and high viz blue, which matches the 2018 Movistar kit.
FS260-Pro helmet
Endura's second new road helmet is the FS260-Pro. It claims that a small helmet weighs under 200g. you don't get the Koroyd shell, but there is plenty of venting in the shell, with channels directing airflow over the head. As with the Pro SL helmet, there's multiple adjustment of the helmet's cradle. You get a spare set of bug net padding with the helmet.
Priced at £89.99, the FS260-Pro comes in three sizes and white, black or hi-viz green.
Launched alongside the Pro SL and FS260-Pro road helmets, there's a new SingleTrack II MTB helmet too.
Thank you for reading 20 articles this month* Join now for unlimited access
Enjoy your first month for just £1 / $1 / €1
*Read 5 free articles per month without a subscription
Join now for unlimited access
Try first month for just £1 / $1 / €1