FIRST RIDE: PINARELLO PRINCE C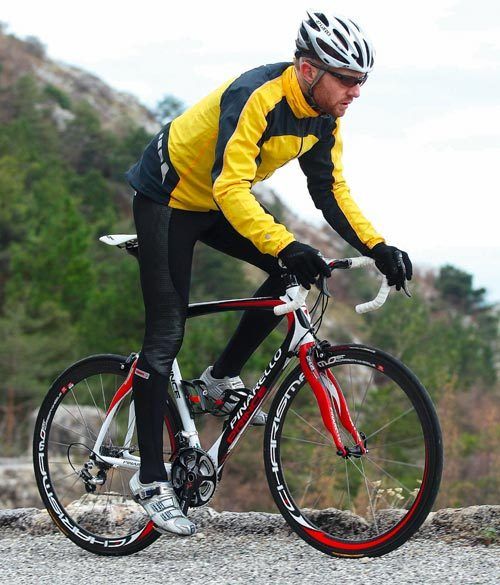 The mark-one Prince was packed with innovation. Could the radical look of the new model disguise a restyling exercise? Quite the contrary ? this dapper steed is literally cut from a different cloth.
Peering through the lacquer on the frameset, you can see that it?s a finer weave than normal. This means less material is needed to achieve the required strength and rigidity. It?s code-named 50 HM 1K. The muscular joints around the head tube, seat tube cluster, and bottom bracket prove the old adage that form follows function.
Once on board, the frame advances are apparent ? it?s lithe and quick. The breakthroughs in materials are combined with classic Italian geometry. The reassuring handling characteristic once out on the open road is a joy.
Finishing kit is no less than you?d expect for the price tag; weight advantages and impeccable performance come from the Campagnolo Record gruppo but the chainset is not Record. Made by FSA but labelled with the in-house Pinarello brand Most, it?s obvious why they have added it, but surely Campag should be allowed to do what they do best. Carbon Most seatpost, stem, and handlebar complete the bike. The wheels are also Most, but made by Corima they?d be perfect for criteriums.
The jagged shaped Onda fork is beefed up too, with a perceptive difference to handling. It has a precise feel, which becomes obvious in off-camber corners or hairpin switch-backs for example.
So Pinarello are back to the fore of the market, but can it beat the opposition?s best? Only a grouptest will tell.
Prince carbon
ManufacturerPinarello
DistributorYellow Ltd, 01785 810811, www.pinarello.com
Price£2,699 (frameset)
Frame50HM 1K carbon
ForkOnda 50HM 1K
Size range44-59cm
Weight16lb (7.3kg)
GroupsetCampagnolo Record
DeviationsPinarello chainset
Alterationsnone
Gear ratios50/34 with 11-25
WheelsPinarello Charisma carbon
Tyres?Pinarello Prince? (by Continental)
BarsPinarello Most
StemPinarello Most
SeatpostPinarello Most
SaddlePinarello Most
Size tested57cm
CW FIRST IMPRESSION: 10/10