Five new summer jersey designs from Hackney GT
New more technical cut and features and two women's fit options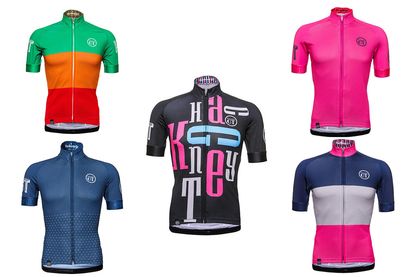 Hackney GT describes itself as a cycle clothing and fashion label and its new summer 2018 short sleeved jersey designs live up to their billing.
The brand has made some technical improvements in the fabrics and materials used this year. You still get Belgian polyester main panels and lycra side panels and sleeves. But the latter have been redesigned and Hackney GT has a new zip with a better grip and improved zip garage.
>>> Hot weather cycling: five tips to help you keep your cool
Hackney GT has also changed the cut to make it closer and more aero, although it says that it's not a skin-tight stretch, but gives you real world sizing. You get a fourth zipped rear pocket and a reflective strip sewn into their base.
All its jerseys are made in England, with Hackney GT collaborating with designer Swifty, a long term fan of the brand. The Typo follows the brand's usual design ethos, while the other four jerseys come in bright block colours.
>>> 15 of the best summer jerseys reviewed
Russ Jones, top man at Hackney GT says: "We've always been known for our more flamboyant designs but for 2018 we've decided to go bold with one and three colour creations. Swifty has once again been outstanding in the design details, running through each piece which viewed closely contain lots of unique but subtle graphics. We've also updated the range technically making these the best jerseys we have ever produced."
The Typo design carries on from 2017's One Life racing team jersey, using the Hackney GT logo as its base. The Trackster jersey comes in pink or navy blue, but although they look like block colours, they contain some covert design subtleties in keeping with Hackney GT's look. There are also two horizontally banded tricolour jerseys, which Hackney GT says are already proving popular as pre-orders.
>>> Hackney GT Camo Swifty Colab jersey review
Hackney GT will sell its new range in sizes from XS to XXL, while the Trackster designs will also be available in a women's fit. Price for all summer 2018 jerseys is £105, although pre-order now and you can get one for £85.
Thank you for reading 20 articles this month* Join now for unlimited access
Enjoy your first month for just £1 / $1 / €1
*Read 5 free articles per month without a subscription
Join now for unlimited access
Try first month for just £1 / $1 / €1