Kask Valegro: Brand new helmet will be worn by Team Sky
Team Sky to wear the new Kask Valegro helmet, a well ventilated, lightweight new piece of headwear designed for the hardest stages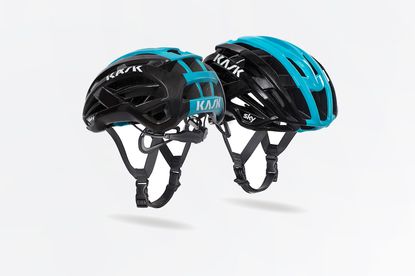 Kask has released its brand new Kask Valegro helmet, which it says Team Sky will wear on the hottest and the hardest stages of the 2017 Tour de France.
Kask says that the key technology used here is its "cutting-edge" ventilation system, as well as its super lightweight compact design.
Much like the Pinarello F10, the new Kask Valegro has been designed with and for Team Sky, to ride in the 104th edition of the the Tour. Its design is based on the feedback from the riders.
>>> Best kids' bike helmets: A buyer's guide
Ventilation was key to the design, Kask say, and the new helmet comes with a whopping 36 vents. Supposedly, this results in a "head-to-pad contact patch which is 70% smaller than some conventional helmet designs".
Team Sky riders training with the new Kask Valegro ahead of the 2017 Tour de France. Of course swapping these lids for Kask's dedicated aero versions for the race.
Supposedly, the Kask Valegro was developed thanks to feedback that the rider's gave on the Kask Infinity aero road helmet and the time-trial Bambino Pro helmet.
Watch: Tour de France 2017 Stage Two highlights
It also claims that the use of advanced materials, as well as brand new moulding techniques has allowed the weight to be significantly dropped. We're yet to hear what it weighs but with 36 vents it should be a featherweight.
>>> 10 of the best deals on bike helmets available right now
Team Sky still has access to Kask's suite of helmets, depending on which best suits the stage we'd expect to see the Valegro employed when riding in the mountains of this year's race.
Kask's manager Ylenia Battistello says that "We have a great relationship with Team Sky and together we have developed a new helmet that delivers the optimum blend of high performance, comfort and rider throughout a race as tough as a Grand Tour".
Thank you for reading 20 articles this month* Join now for unlimited access
Enjoy your first month for just £1 / $1 / €1
*Read 5 free articles per month without a subscription
Join now for unlimited access
Try first month for just £1 / $1 / €1