POC releases the Ventral, a new aero road helmet with a focus on weight and ventilation
The POC Ventral is the Swedish brand's new, do-it-all aero road helmet with a focus on weight and aerodynamics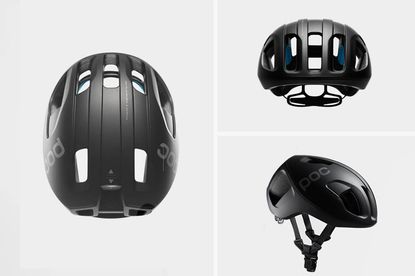 Swedish brand POC has announced the release of its new Ventral helmet, which it claims is the lightest and most aerodynamic lid it has ever created, weighing 245g on our scales (POC claimed it weighed 248g).
The brand says that the helmet was developed with four principles in mind: ventilation, aerodynamics, safety and weight.
While POC does have a full blown aero lid in the POC Octal Aero, the Ventral enters its line as a do-it-all aero road helmet. According to POC, the angle of the helmet's frontal aero intakes (or vents) are deliberately designed to capture and lead air through the helmet rather than pushing it over the top of the lid. The internal channels on the helmet are really deep, designed to help that air flow through the inside and out the rear exhaust port.
The same channels that supposedly make the POC Ventral so aerodynamic should also make it well ventilated. POC says the cooling channels create precise pressure zones inside the helmet that increase air velocity and thus cooling. It's supposedly the Venturi effect in action.
The POC Ventral also has SPIN, POC's proprietary safety feature that was first announced for the brand's moutain biking helmets back in August 2017. The pads inside the helmet sit directly against the user's head and can shear in any direction, allowing the helmet to move relative to the head which can reduce impact force.
Watch: Helmet buyer's guide
http://www.youtube.com/watch?v=GSmpTY2s1-o
POC says the added benefit of using pads to do this is that the helmet does not require any specific attachments that might interfere with airflow inside the helmet.
However, SPIN hasn't always been plain sailing for the Swedish brand, and back in November MIPs did seek legal action against POC for a potential patent infringement.
The helmet has been designed with feedback from the EF Education First Cannondale Pro Cycling Team, and we can apparently expect to see it debut at Paris-Nice which starts on the 4th March.
The helmet will retail at €299, with UK pricing to be confirmed and it will be available in nine different colours.
Thank you for reading 20 articles this month* Join now for unlimited access
Enjoy your first month for just £1 / $1 / €1
*Read 5 free articles per month without a subscription
Join now for unlimited access
Try first month for just £1 / $1 / €1