How much?! Silca launches £107 frame-fitting pump
The recently revived brand reworks a classic pump design for the 21st century - the Impero Ultimate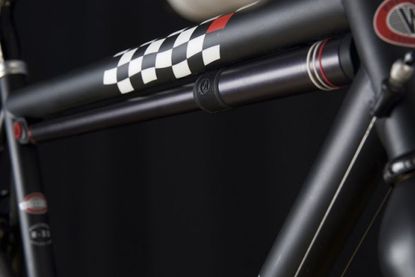 After redefining the track pump last year with their $450 Super Pista Ultimate, Silca has now turned its attention to the humble frame-fitting pump.
The Impero Ultimate is a reworking of the brand's classic 1920s design, which evolved throughout the 20th century as different materials emerged.
The 2015 version, following the former Italian company's takeover by American Joshua Poertner, gives a nod to the original's classy aluminium construction and combines it with 21st century gasket, seal and valve technology…not to mention a modern day price.
"Our biggest focus in design and manufacturing is on creating parts with the best possible functionality, durability and quality," Poertner told Cycling Weekly. "We spent a lot of time working with custom frame builders to make sure that the fit was as good as possible on the widest variety of frames, and that we really optimized all potential contact points to eliminate any possible damage to paint."
Accordingly the pump comes in four frame sizes, incorporates silicone bumbers to adapt to varying tube shapes and is 95% paintable to match the colour scheme of your steed.
Perhaps most significantly, though, Silca claims the pump is the most durable and efficient of any portable product on the market. It's small model, it claims, is able to reach 100psi in 114 strokes, even fewer with the larger models.
But as well as meeting the primary functional demand of a pump head-on, Poertner prides the new design for its subtleties.
"It sounds a bit silly but we worked through numerous iterations just tweaking the feel of the pump when you use it, making sure that the grip points feel natural and don't leave you with bruised fingers as we found some pumps do," he said.
"Along the way we just couldn't help ourselves on some things. We're using the same Italian leather for the plunger washer that Silca has used since the 1940's. It's expensive but seals more effectively than any o-ring seal and is completely impervious to dust, sand, dirt or grit.
"We are using a modified version of the Silca floor pump check valve pin, made by the same vendor since 1947, partly for history, but also because it lends the pump that amazing feel and audible 'click' at the end of the stroke."
Inevitably such attention does not come cheap. But Poertner is not shy about the pump's $165 (approximately £107) price tag.
"I look at it like this," he said. "It's less than the cost of a good jersey, or shorts or sunglasses and is handcrafted in the USA from more than 20 pieces of high precision CNC aluminum, brass and Italian leather.
"It will last for 25+ years, is 100% rebuildable if it gets run over by a car or something, and could possibly offset it's own price in CO2 cartridge savings! It makes me wonder how we can sell it for so little!
"Our goal is to elevate the pump back to the status of 'Tool' and good tools, made from good materials will not be inexpensive, but will pay dividends in the long run through reliability, durability, rebuild-ability and ultimately sheer pleasure of use and ownership."
Thank you for reading 10 articles this month* Join now for unlimited access
Enjoy your first month for just £1 / $1 / €1
*Read 5 free articles per month without a subscription
Join now for unlimited access
Try first month for just £1 / $1 / €1