More stunning shoes from Specialized thanks to a redesign of its Torch line
Specialized has redesigned its Torch road shoe line, and it's as good looking as ever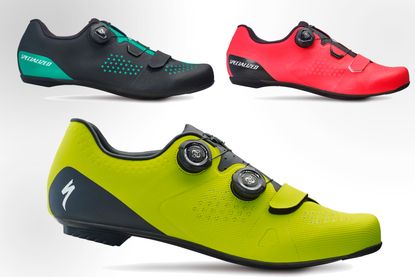 Specialized has redesigned its Torch road shoe for 2018, creating a broad range that's packed with top technology.
There are three lines of shoes for both men and women, from an entry level Torch 1.0 through to the top tier Torch 3.0.
>>> Best cycling shoes 2017: a complete buyer's guide
At the sharp end of things sits the Torch 3.0, a battle ready, performance orientated racing slipper that's jammed full of top tech. Specialized says that from the beginning, its aim was to create a performance offering as feature packed as any top-end shoe.
The Specialized Torch 3.0 comes with a "Body Geometry" sole and footbeds that are supposedly ergonomically designed and tested to boost power and reduce the chance of injury by optimizing hip, knee and foot alignment.
At this top level you also get a FACT carbon composite sole with a stiffness index of 8.5. A mesh upper is paired with two Boa Dials for on the fly adjustment.
According to Specialized, each shoe weighs 248g in a size 42, and are available in either black and lime (men's) or white (women's). They'll come in at a "palatable" £200.
Watch: How to fit your cleats
Slice £50 of the price and you get the Specialized Torch 2.0, which according to the company are all about comfort, having been deliberately designed to have more give thanks to a 100% mesh construction.
Unlike the top end shoe, the 2.0 only gets a medium stiffness sole and a rubber heel and toe. The boot is then rounded out with one Boa Dial and a one Velcro strap.
At 235g a shoe, the Torch 2.0 is, bizarrely, lighter than the 3.0 model. For men it's available in black, red and white while women have the choice of black and white. The shoes will cost £150.
At entry level, Specialized now has the Torch 1.0, which the brand claims has the same Body Geometry ergonomics of its older siblings in a more affordable package.
However, it loses the carbon sole, instead getting a nylon composite with a 6.0 on the stiffness index and three Velcro straps over a more luxurious Boa Dial. You'll also get less colour options – black and white for both men and women and it'll cost £80.
Thank you for reading 10 articles this month* Join now for unlimited access
Enjoy your first month for just £1 / $1 / €1
*Read 5 free articles per month without a subscription
Join now for unlimited access
Try first month for just £1 / $1 / €1