Tech of the Week: the £1000 national championship winning bike & the most exciting new bikes for 2016
This week proved you don't always have to buy a brand new and expensive bike to be quick. However, there are still plenty of new bikes out there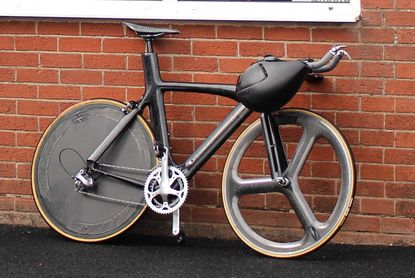 As is normal for this time of year there are lots of new bikes being revealed for 2016 which you can start saving up for. However, this week was different in that we also saw a rider win a national title on a bike many of us could afford.
Old Bikes...
Richard Bussell showed it's not all about the bike as he became the new National 10-Mile Time Trial Champion….. riding a bike that cost £1,000. It shows that if you are happy to ride second hand equipment and willing to put the time in searching for the best prices, you can get a vert fast bike on a limited budget.
... And New Bikes
For those of us that like nice, new, shiny and fast bikes, there was plenty to look at. We shared the five bikes we think are the most exciting for 2016 (including the Scott Foil and the Cervelo R3 Disc).
It wasn't just 2016 road bikes that have been making a lot of noise. Look has released its super fast looking 796 Monoblade time trial bike. The 796's standout feature has to be how narrow it is — its head tube is only 25mm wide, the UCI's minimum limit for head tube width.
In an era where carbon is king, steel might be making a resurgence. Computer analysis of hundreds of different bike frames has led to the conclusion that the ideal steel frame, for both optimal comfort and stiffness, would use tubing from a variety of different steel frame manufacturers.
Rapha tribute to Tom Simpson
To celebrate the 50th anniversary of Tom Simpson's World Championship victory in 1965 Rapha released a racing cap and jersey. The tribute clothing looks to mirror the top end properties we've all come to expect with Rapha.
Also, Team Sky wore the Tom Simpson tribute jersey for stage one of the Tour of Britain.
Peloton reaches for the granny gears
Often we think of the pro peloton as being super human. It was somewhat refreshing to see that even the best in the world have to use the 32 tooth cassette sometimes.
Thank you for reading 20 articles this month* Join now for unlimited access
Enjoy your first month for just £1 / $1 / €1
*Read 5 free articles per month without a subscription
Join now for unlimited access
Try first month for just £1 / $1 / €1