New research unlocks secrets of steel tubing
Computer analysis reveals that the ideal steel bike would combine tubing from different manufacturers to produce the best possible stiffness and comfort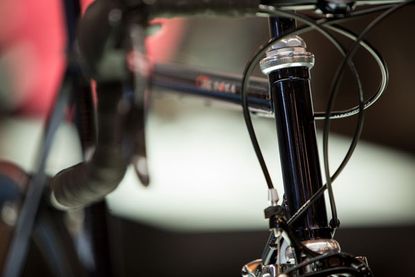 The computerised analysis of hundreds of frame tubes is unlocking a new way to specify the perfect steel bike.
Most steel frames are built with tubes of the same grade of material from a single manufacturer, such as Reynolds, Columbus or Tange.
But now, software that assesses the characteristics of more than 500 combinations of tubes from different suppliers suggests that the ideal combination of feel and ride quality requires mixing tubes from different manufacturers.
>>> Why steel time trial bikes are making a comeback
"We've used computer-aided design and finite element software to analyse a virtual bike frame," says Dr Derek Covill, principal lecturer in engineering and product design at the University of Brighton.
The computer took just a few minutes to compare the hundreds of different combinations of standard tubes from Reynolds, Columbus and Tange.
It worked out which top tube, down tube, seat tube, seatstays and chainstays would give the best balance between lateral stiffness and vertical compliance for a road bike.
In other words, it found the sweet spot among a huge range of possibilities for a frame that is comfortable and yet doesn't flex wastefully.
>>> New steel could be lighter and stronger than titanium
The highest performing individual tubes for the 56cm size road frame analysed, according to the software, are:
Top tube – Reynolds 953
Down tube and seat tube – Columbus Life
Seat stays – Columbus XCR
Left hand chain stay – Columbus XCR
Right hand chain stay – Tange Ultra Strong
Covill and his colleagues from Brighton University will present their findings at an international conference on sports technology in Barcelona this month.
It's part of ongoing research to better understand how steel frames behave.
"There's a lot of uncertainty about bike frame performance," says Covill, "We want to help the industry tackle it properly and to do so we need to be able to assess and quantify characteristics."
"We want our work to be useful to people who make bikes," says Covill. "We want it to contribute to the real world. One plan is to discuss these results with a range of frame builders at the Bespoked hand built bicycle show to see how they can be made available in a way that is most useful for bicycle designers and frame builders."
Watch our round-up of the best bikes from Bespoked 2015
The team are also planning to take the knowledge from the computer-specified ideal frame and test a variety of real frames produced by a range of manufacturers.
Mixing tubes from several sets isn't common for mass-produced bikes, but some bespoke framebuilders, such as Chas Roberts of Croydon, have done so frequently, and it is becoming more common.
Rourke Cycles of Stoke-on-Trent has used various tubes of different steel grades to change the response of a frame. "They are nearly always from the same manufacturer, Reynolds, and it can make it a little more difficult when you're joining the tubes," says Gareth at Rourke.
Mark Reilly, of Nerve Bicycles, Brighton, is building a gravel bike of Reynolds 853 and Columbus tubing. "The increased complexity can mean you have to use different brazing at different joins, and it's going to take more time to build," he says.
>>> How a bike costing £1,000 won the National 10-mile TT title
It's usually the framebuilder who decides which tubes will give the frame the feel the customer wants, and their success at this depends on their knowledge and experience.
"We were building a frame for a tall and heavier set rider," says Aaron Barcheck, head framebuilder at Mosaic Bespoke Bicycles, of Boulder Colorado, who supplies frames for Prestige Cycles of Hove, Sussex. "We couldn't source a downtube big enough from our primary supplier to achieve the desired stiffness so we sourced a larger tube (length and diameter) from another manufacturer. We were able to achieve this with a lightweight, thin-walled tube with a bigger diameter rather than a smaller-diameter, thicker-walled tube."
If studies like those at the University of Brighton are able to quantify tube attributes, it could support frame builders and bicycle designers in their efforts to better understand the implications of tube choice and frame geometry on bicycle performance — and it could help to keep the customer more informed too.
Parametric finite element analysis of steel bicycle frames: the influence of tube selection on frame stiffness by Derek Covill, Alex Blayden, Daniel Coren and Steven Begg will be presented at the 7th Asia-Pacific Congress on Sports Technology, Barcelona, later this month.
Thank you for reading 20 articles this month* Join now for unlimited access
Enjoy your first month for just £1 / $1 / €1
*Read 5 free articles per month without a subscription
Join now for unlimited access
Try first month for just £1 / $1 / €1