Vision releases new tubeless alloy wheelset
The 20mm front and 24mm rear Vision Trimax 25 KB wheelset provides an alloy rim alternative to the tubeless market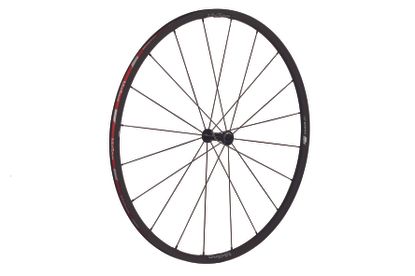 Coming complete with the new extra light Preloaded Reduction Assembly (PRA) system hub as featured in the range topping Vision Metron Carbon wheelset, Vision says the new the Trimax 25 KB wheelset is a genuine alternative to it's carbon counterparts for a much more affordable price.
>>>Best road wheelsets reviewed 2018
Vision says it's one of the strongest wheelsets its produced, thanks to an increase in the number of aero bladed spokes on the non-driveside of the rear wheel (10 spokes over seven) to give extreme rigidity to the structure, as well as the asymmetric profile of the rim in order to optimise the weight distribution.
Both the 20mm front and 24mm rear wheels feature the super hard-wearing Keronite, a plasma electrolytic oxidation coating (PEO), which is know for it's wear resistance characteristics, among other things, and which Vision believes improves wet weather braking as well as fortifying both the rim and the braking track, as well as adding the KB (Keronite Black) to the wheel name.
It's similar to the Mavic Exalith coating, but hopefully quieter in nature. And of course, as it's an alloy rim, Vision say the Trimax 25 KB wheelset can be used with standard brake pads
Measuring 21.4mm externally and 17mm internally Vision recommend using a 25mm tubeless tyre, which it says will also add to the wheel performance, but tests reveal that 23mm tyres are also compatible.
Claimed final weight for the pair is around the 1,380g mark, which is nearly 140g lighter than the alloy Fulcrum racing Zero, which Vision says makes the Trimax 25 KB ideal for all terrain road riding.
Priced at £699 the Vision Trimax 25 KB are competitively priced for a tubeless offering, especially as they still fall under the Vision handmade banner, making these potentially an alternative wheel upgrade option to heavier carbon tubeless ready wheelsets. We're looking forward to hopping on a pair for a review shortly.
Thank you for reading 5 articles this month* Join now for unlimited access
Enjoy your first month for just £1 / $1 / €1
*Read 5 free articles per month without a subscription
Join now for unlimited access
Try first month for just £1 / $1 / €1