Watch: Cyclocross pro stops disc brake using just his hand in attempt to prove their safety
Former American Cyclocross champ adds his "two cents" to the debate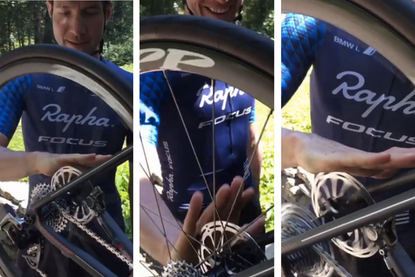 Cyclocross powerhouse Jeremy Powers has entered the disc brake fray by stopping a disc with his hand in a video posted on Instagram.
Adding his "two cents" Powers, who rides for SRAM-sponsored Aspire Racing team, supported their use stating that newer disc brakes were a "game changer" by spinning his rear wheel and duly stopping it with his hand.
The video comes after the Royal Spanish Cycling Federation (RFEC) issued an announcement that they had banned disc brakes at their national championships. After reading about the announcement, the American admitted he was "curious" about the controversy and wanted to run a test.
>>> Watch: SRAM Red eTap HRD groupset review
Being a cyclocross rider, where disc brakes are legal, Powers is a big user of the stopping system but confessed that he didn't disagree with some of the issues raised by road riders competing in a large field
However, in the video the rider laughed as he stopped the disc with his palm. "There is nothing that will cut you any longer" he said, while simultaneously spinning the wheel and holding his hand against the rotor.
>>> Are disc brake covers the answer?
The former US CX champ will certainly add fuel to a debate that has been raging on for some time. The UCI is currently trialling the use of disc brakes in professional road racing.
Thank you for reading 20 articles this month* Join now for unlimited access
Enjoy your first month for just £1 / $1 / €1
*Read 5 free articles per month without a subscription
Join now for unlimited access
Try first month for just £1 / $1 / €1