Disc brake rotor covers being assessed for possible future use in pro peloton
Professional cyclists association CPA posts photos of disc brake rotor covers being assessed by the UCI's Equipment Commission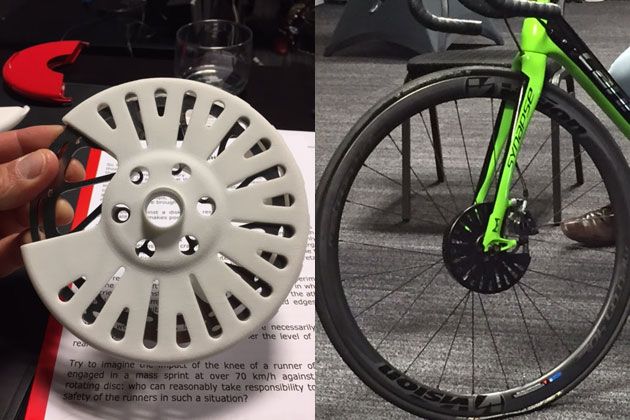 (Image credit: Cyclistes Professionnels Associés (CPA))
The UCI's Equipment Commission is currently studying samples of disc brake rotor covers as a possible solution to safety issues raised from using discs in professional road cycling.
Rider organisation Cyclistes Professionnels Associés (CPA) posted photographs on Wednesday of disc brake rotor covers being inspected as part of "the start of an investigation on security guard[s]".
The photos showed a grey, vented cover over a disc rotor and a black version attached to a Cannondale road bike.
Safety concerns over the use of disc brakes in road cycling have been raised since their introduction in trials at the end of the 2015 season. The trial was subsequently suspended after Francisco Ventoso (Movistar) suffered an injury to his leg during Paris-Roubaix in April 2016 that he attributed to a disc brake rotor.
Trials of disc brakes then resumed on January 1 2017 after the UCI met with representatives from the CPA and Association Internationale des Groupes Cyclistes Professionels (AIGCP).
>>> Industry body reports find no evidence of disc brakes causing injuries in crashes
Then in February 2017, British rider Owain Doull suffered a deep cut to his shoe and into his foot after crashing in the Abu Dhabi Tour. Again, the injury was attributed to disc brake rotors.
At the end of February, the CPA suggested that it may pursue legal action against the UCI over the use of disc brakes "before appropriate tests were conducted on the risks to which the riders are exposed in the event of accidental contact with the discs (for example during a group fall)".
A CPA spokesperson told Cycling Weekly on Thursday, that the CPA was pleased that the UCI is now seeking to improve the safety of disc brakes. "We are happy because we finally see that the Commission is trying to achieve the requests of the riders.
"One of the concerns of the riders about the disc brakes was in fact the problem of the body touching the discs and risking to have some injuries from that. Until now the Commission worked on rounding the discs (another request of the CPA and the riders) and never showed us some solution for the second request: the security guard.
"So this is a good step towards what the riders want and towards a better security for the peloton."
"Now we will see how we will be able to obtain the same conditions (same braking system and braking performance) for everyone, the third conditions asked from the riders to improve the security."
The UCI's Equipment Commission serves to advise the UCI Management Committee rather than having any decision-making powers itself. As part of its remit, the Equipment Commission can set up consultation groups to "review, update and modernise the current regulations governing cycling equipment".
The Equipment Commission's eight members includes a representative of the CPA, Pascal Chanteur, as well as equipment experts, industry representatives and UCI members.