Anna Meares returns to international track competition
Anna Meares back on the track in front of the Manchester crowd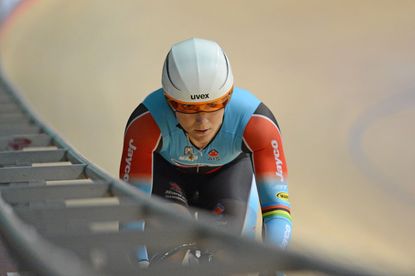 Anna Meares may have left the Manchester world cup without a medal, but the fact the nine-time world champion was back competing at an international level will not have escaped the notice of her rivals.
Meares, the current Olympic sprint champion has nine world titles to her name and is likely to win more in the current Olympic cycle. "You're stuck with me for another three years at least," she joked with the press after losing the bronze medal sprint final with Becky James.
"I took five months off after London to ensure it wasn't just the hype of the Olympics that gave me that feeling. It's good for my health. If I walk away from the sport for a little while I'll know if I want to commit to - physically is one thing, mentally is another - a four year cycle."
"I love this sport, I love the challenge. I've got the support of my husband and my family and the AIS and my coaching staff. My husband said, 'you're a long time retired'".
At the 2004 Athens Games, Meares became the youngest Australian woman to win an Olympic gold medal when she won the 500m time trial. Although she has always excelled at timed events she was eclipsed in match sprinting by Victoria Pendleton throughout the Beijing Olympic cycle.
The rivalry between the two intensified at the Bordeaux world championships in 2006 when Meares 'hooked' Pendleton on the final lap of the first round repechage in the keirin. Meares was relegated and apologised, but Pendleton never really forgave her.
In January 2008, Meares crashed at the Los Angeles world cup breaking her C2 vertebrae and dislocating her shoulder. Incredibly she was back on her bike 10 days later and made it to the Beijing Olympics that August. She made it to the final after Shuang Guo was relegated in their semi-final race, but in the final, Pendleton was on another level, winning by several bike lengths.
In the London Olympic cycle, Meares emerged as the dominant female sprinter and at the London Games she ran out victorious over Pendleton in the final. With Pendleton now retired, Meares will face new challenges. "I thought I'd get a break from the British after Vicky retired, but they just keep churning out world champions!"
"Becky was always going to be a handful, I said that when I raced her in Delhi as a young 18 year old. To see her develop, mature and grow in to a strong young woman who has earned the right to be world champion and wear those rainbow bands is really wonderful."
"A little daunting as a rival, but in the sense of the sport as a whole it's great. There is a changing of the guard after each Olympiad and to see her step up was really nice. Great family great person and I love seeing grounded people working hard and achieving."
"It's nice to get a taste of where these girls have come up to in performance and maturity. James is definitely going to be a big challenge, Kristina Vogel is going to be a big challenge and I don't think we've seen the best of the Chinese."
Continued below........
Anna Meares beats Victoria Pendleton in the sprint competition at the 2012 London Olympics, Victoria Pendleton's final race
Anna Meares was never afraid of a bit of brinksmanship when it came to sprinting, something that Pendleton famously hated, prefering to use her speed. Meares ruthlessly exploited this at the London Olympics
Meares may have ended the reign of Queen Victoria in London but she was still a popular winner. In Australia she has regularly topped polls for cyclist of the year, regularly beating the countries road racing stars.
Meares prepared meticulously for the London Olympics. Hiring a male sprinter to study and replicate her rivals tactics and then try and beat him in training.
The rivalry between Meares and Pendleton dates back to 2006. Between then and 2012 the pair dominated women's sprinting, raising the profile of the sport to new heights.
Can Meares return to the level she reached in 2011 when she won the sprint, keirin and team sprint world titles in Apeldoorn? Still only 30 years old, the chances are she can, although it's not going to be easy. She qualified fastest for the sprint competition with a 10.874 second flying 200m before making it through to the bronze medal final where she met James. "It's nasty how long you work to build up a level of fitness, a level of strength, and how quickly it goes. I lost a lot of weight on my break, and it's been a long hard slog to get back to a competitive level."
"My [sprint] qualifying [in Manchester] was fantastic but the intensity is a real shock to the system. I haven't been able to expeirence that in 16 months. It's a good reminder and a good benchmark for me."
"I raced the Adelaide GP and also Cottbus in July but at this level you always lift it and hurt yourself a little more physically, and that is what's really hard to get your head around. Your body is crying out for you to stop and your head telling it to keep going."
Meares will return to the UK next summer to compete in the Commonwealth Games. I'm really looking forward to Glasgow, I've never been to Scotland, I hear the track is wonderful. The Commie Games is really important to me, sometimes back in Australia the level of importance is [reduced] a little bit or not really appreciated because it's not the Olympics."
"For me it's important I get to wear my colours I get to represent my country and do what I love."
http://www.youtube.com/watch?v=CkmmXSs-ooQ
Anna Meares' Olympic titles
Sprint - 2012
500mtt - 2004
Total - 2
Anna Meares' world titles
Sprint - 2011
Team sprint - 2009, 2010, 2011
Keirin - 2011, 2012
500m tt - 2004, 2007, 2010, 2012
Total - 10

Thank you for reading 10 articles this month* Join now for unlimited access
Enjoy your first month for just £1 / $1 / €1
*Read 5 free articles per month without a subscription
Join now for unlimited access
Try first month for just £1 / $1 / €1
Editor of Cycling Weekly magazine, Simon has been working at the title since 2001. He fell in love with cycling 1989 when watching the Tour de France on Channel 4, started racing in 1995 and in 2000 he spent one season racing in Belgium. During his time at CW (and Cycle Sport magazine) he has written product reviews, fitness features, pro interviews, race coverage and news. He has covered the Tour de France more times than he can remember along with two Olympic Games and many other international and UK domestic races. He became the 130-year-old magazine's 13th editor in 2015.