Bradley Wiggins and Mark Cavendish win the Ghent Six Day
British duo Mark Cavendish and Bradley Wiggins put in huge effort in final Madison to claim the 2016 Ghent Six Day victory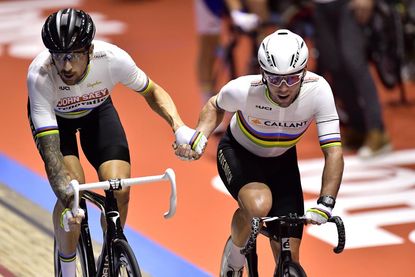 (Image credit: Watson)
Sir Bradley Wiggins and Mark Cavendish won the Ghent Six Day in Belgium on Sunday, gaining a lap on their main rivals in the final, decisive Madison event.
After six days of racing, the margin between the top three duos was remarkably tight. Wiggins and Cavendish went into the final Madison in third place overall, and needing to physically gain a lap on leaders Kenny De Ketele/Moreno De Pauw and second-placed Elia Viviani/Iljo Keisse to overthrow them.
Wiggins and Cavendish gained an early lap to take the lead in the hour-long finale, but their two rivals soon gained a lap to neutralise their advantage. The British pair then answered with another gained lap, and their rivals then regained a lap in a game of tactical tit-for-tat.
>>> Ghent Six Day: everything you need to know
After half an hour of frantic lap-gaining, the position of the top three teams remained as it was when the event started. With 50 laps to go, points were then awarded on the intermediate sprint laps, which signalled a further upping of the pace.
Wiggins/Cavendish elected not to get involved in the sprint laps as De Ketele/De Pauw and Viviani/Keisse scrapped for points, instead holding back their energy to try and gain a lap.
Madison world champions Wiggins and Cavendish timed their effort perfectly, biding their time until their rivals were fatigued from sprinting to points to open up their final, blistering move to gain a lap – and take the overall victory. In total, Wiggins and Cavendish had gained a mammoth 11 laps during the race, with all but the last countered by their rivals.
The event has been billed as Wiggins's last race to close out his career, but already he has hinted that he may continue racing in Six Day events. However, it is the last time that he and Cavendish will race together as a team – and what a way to finish a glittering partnership.
It's the first time that a British pair have ever won the Ghent Six Day, although Wiggins won it in 2003 with Belgian Matthew Gilmore.
>>> Mark Cavendish takes a break from the Ghent Six Day to perform the YMCA (video)
Final overall standings
1. Bradley Wiggins/Mark Cavendish (Saey-Callant) 410 points
2. Kenny De Ketele/Moreno De Pauw (Baloise Insurance) 475 (-1 lap)
3. Elia Viviani/Iljo Keisse (LIDL) 468 (-1 lap)
4. Nick Stopler/Cameron Meyer 224 (-4 laps)
5. Lindsay De Vylder/Leif Lampater (Provincie Oost-Vlaanderen) 240 (-12 laps)
6. Otto Vergaerde/Morgan Kneisky (Caruur) 214 (-12 laps)
7. Jesper Morkov/Marc Hester (TUI) 126 (-12 laps)
8. Nick Stopler/Tristan Marguet (Primus Haacht) 109 (-26 laps)
9. Roy Pieters/Jonas Rickaert (Topsport Vlaanderen) 113 (-32 laps)
10. Alex Rasmussen/Yoeri Havik (Vanreusel Snacks) 77 (-48 laps)
11. Ollie Wood/Mark Stewart (Energy Lab) 56 (-48 laps)
12. Marcel Kalz/Robbe Ghys (T-Interim) 139 (-57 laps)
Thank you for reading 20 articles this month* Join now for unlimited access
Enjoy your first month for just £1 / $1 / €1
*Read 5 free articles per month without a subscription
Join now for unlimited access
Try first month for just £1 / $1 / €1