Hayley Simmonds continues dominance with National 10 win
Velosport rider defends her title, while Gabriel Evans takes victory in junior race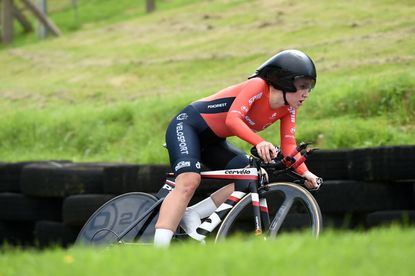 (Image credit: Andy Jones)
Hayley Simmonds (Velosport) has added the National 10-mile Championship title to her growing list of 2015 victories, while the junior race was won by Gabriel Evans (London Dynamo) in Wiltshire.
Already the 2015 champ over 25 as well as the British Cycling TT Champion, Simmonds successfully defended her 2014 victory in the 10, clocking 22.14 to win by 27 seconds from Mel Wasley (Epson CC). Kate McNeill (drag2zero.com) was third, another nine seconds slower.
In the junior race, Evans covered the U8 course at Marlborough in 20.44, which was fastest by 14 seconds from Sam Henning (Catford CC), with Matt Langworthy (Mid-Devon CC) four seconds back in third.
Simmonds took the win despite having her final preparations interrupted by a family funeral. She said: "I've not really had my mind in it — I've had a family funeral this week. It took a lot of concentration today.
"The course was hilly but I don't mind that. I much prefer a hilly course to a dual carriageway."
The same three riders graced the podium in the National 25, but this time Wasley stepped up to second with McNeill in third.
Watch: Road helmet vs time trial helmet
Meanwhile, Evans's victory signals the end of his season and the start of some much-needed relaxation.
"The pressure this year has been massive with the National Series, so it's going to be good to have some down time," he said.
"I was disappointed not to win the National 25 last month so it's good to get back on top of it. It's been a tough month with A levels so it's a gap year next year. I'm going to keep doing local races and continue.
"It was really windy and there were parts where it was difficult to stay on the tri bars, so the more experienced time triallists had an advantage there. It was a lumpy course which separated the men from the boys."
>>> How a bike costing £1,000 won the National 10-Mile Time Trial Championship
Women's National 10-Mile Championship
1 Hayley Simmonds (Velosport) 22.14
2 Mel Wasley (Epsom CC) 22.41
3 Kate McNeill (Drag2zero.com) 22.50
Junior's National 10-Mile Championship
1 Gabriel Evans (London Dynamo) 20.44
2 Sam Henning (Catford CC) 20.58
3 Matt Langworthy (Mid-Devon CC) 21.02
Thank you for reading 20 articles this month* Join now for unlimited access
Enjoy your first month for just £1 / $1 / €1
*Read 5 free articles per month without a subscription
Join now for unlimited access
Try first month for just £1 / $1 / €1