Raleigh's Ian Wilkinson wins Eddie Soens Memorial
The "Superman" sprints to victory from three-man group at Aintree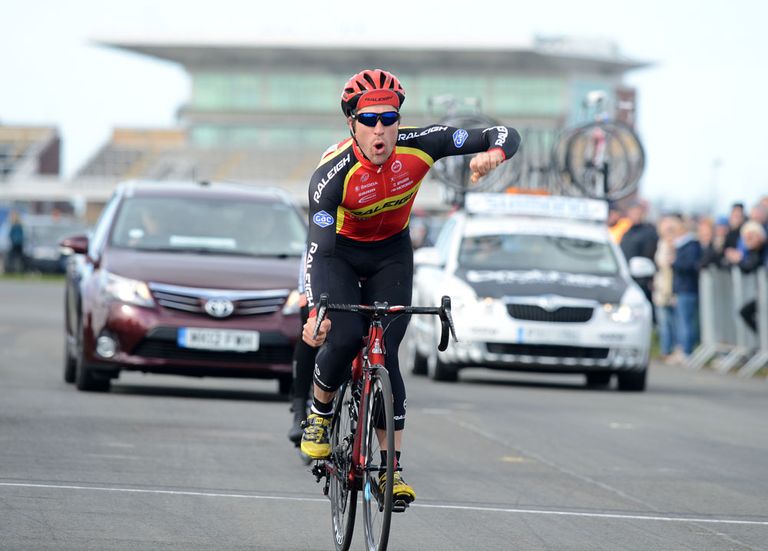 (Image credit: Andy Jones)
Ian Wilkinson won the Eddie Soens Memorial race for the first time this afternoon on his first outing on British soil for his new team Raleigh.
The "Superman" out-sprinted Graham Briggs (Rapha Condor-JLT) and Rob Partridge (Velosure-Giordana) at the end of the 30-lap, 81-kilometre handicap race around the Aintree Racecourse Club Circuit.
Once the scratch group of elite and first-cat riders had caught the three which started before it, the trio broke away with Dillon Byrne (Champion System-Club Roost-Maxgear) from a larger break that formed with around six laps to go.
Owing to a large presence of Rapha and Raleigh riders in the race, once this quartet had escaped into the distance, nobody could mobilise a chase from the main field.
Byrne was dropped with just over three laps remaining, before Wilkinson edged out former Raleigh rider Briggs in the sprint finish.
Third-cat rider, and British Cycling's Major Domestic Events Coordinator, Phil West finished 10th, surrounded by riders from UCI-ranked squads.
Results
Eddie Soens Memorial Race, Aintree Circuit, 81km
1. Ian Wilkinson (GBr) Raleigh
2. Graham Briggs (GBr) Rapha Condor-JLT
3. Rob Partridge (GBr) Velosure-Giordana
4. Chris Opie (GBr) Rapha Condor-JLT
5. Felix English (Irl) Rapha Condor-JLT
6. Evan Oliphant (GBr) Raleigh
7. Alexandre Blain (GBr) Raleigh
8. Morgan Kneisky (Fra) Raleigh
9. Matt Cronshaw (GBr) Velosure-Giordana
10. Phil West (GBr) VC St. Raphael