Rapha Condor-JLT extend Tour Series lead as Gibson and Roe win in Peterborough
Great Britain's Matt Gibson claims individual win as Eileen Roe wins Matrix GP round to take series lead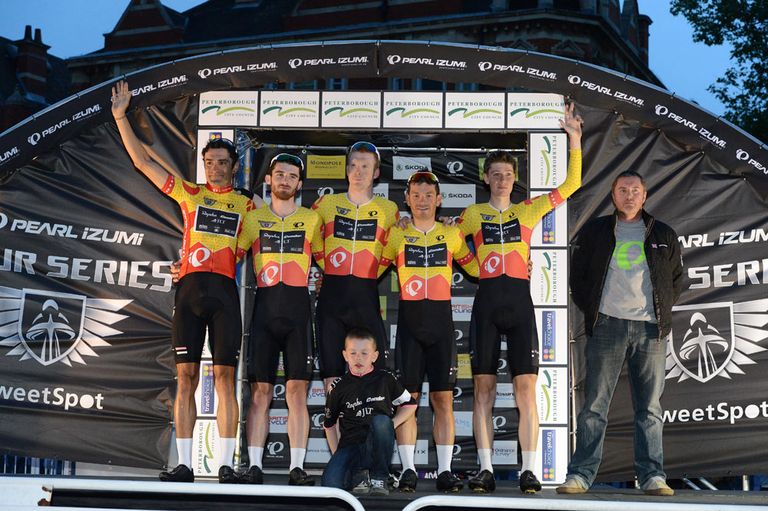 (Image credit: Andy Jones)
Rapha Condor-JLT took their second victory of the 2014 Pearl Izumi Tour Series in Peterborough last night to open up a three-point lead at the top of the overall standings.
Great Britain's Matt Gibson claimed the overall win with a gutsy solo attack from a four-man group, but 2011 series victors Rapha placed three riders in the top six to take the team prize on the night.
17-year-old Gibson, NFTO's Adam Blythe, Graham Briggs (Rapha Condor-JLT) and Mike Northey (Madison Genesis) broke clear around halfway through the round, and maintained a lead of over 30 seconds on the peloton.
However Gibson jumped clear at the start of the final 1.1-kilometre lap, and held on to take the individual win. Blythe took second in his best Tour Series showing to date, while Briggs was awarded third by the commissaires despite placing behind Northey following a last-corner clash.
Briggs's team-mates Felix English and Ed Clancy led the bunch home for fifth and sixth to earnRapha the team prize. Madison Genesis, winners last time out in Barrow, came second, with NFTO claiming third.
In the women's Matrix GP Series, Eileen Roe (Starley Primal) took the series lead away from fellow Scot Katie Archibald after winning the series' second round.
Archibald, who won race one in Stoke-on-Trent last week, did not start last night, which meant Roe wore the leaders' jersey as the best-placed competing rider.
However, her aggressive riding and then a perfectly-timed sprint meant she took the lead of the event outright. She holds an 11-point advantage over comptatriot Charlene Joiner (Pearl Izumi Sports Tours International) ahead of round three in Edinburgh next week.
Results
Pearl Izumi Tour Series 2014: round three, Peterborough
1. Rapha Condor-JLT
2. Madison Genesis
3. NFTO
4. Raleigh
5. Starley Primal
6. Great Britain
7. Metaltek-Kuota
8. Pedal Heaven Colbornes
9. Node4-Velosure
Individual result
1. Matthew Gibson (GBR) Great Britain
2. Adam Blythe (GBR) NFTO
3. Graham Briggs (GBR) Rapha Condor-JLT
4. Mike Northey (NZL) Madison Genesis
5. Felix English (IRL) Rapha Condor-JLT
6. Ed Clancy (GBR) Rapha Condor-JLT
7. Tobyn Horton (GBR) Madison Genesis
8. Tom Scully (NZL) Madison Genesis
9. Tom Stewart (GBR) Madison Genesis
10. Yanto Barker (GBR) Raleigh
Round four Costa Express Fastest Lap: Felix English, Rapha Condor-JLT, 1-17.884
Round four Sprint Winner: Mike Northey, Madison Genesis
Overall team standings after round four
1. Rapha Condor-JLT, 42pts
2. Madison Genesis, 39pts
3. NFTO, 33pts
4. Raleigh, 28pts
5. Great Britain, 23pts
6. Node4-Velosure, 21pts
7. Metaltek Kuota, 18pts
8. Starley Primal, 15pts
9. Pedal Heaven Colbornes, 9pts
Overall Sprint Standings, post-Round Three
1. Jon Mould, NFTO, 25pts
Matrix GP Series, round two
Individual result
1. Eileen Roe (GBR) Starley Primal
2. Nicola Juniper (GBR) Pearl Izumi Sports Tours International
3. Harriet Owen (GBR) Matrix Fitness - Vulpine
4. Jasmine Diotti (ITA) Velosport - Pasta Montegrappa
5. Hannah Walker (GBR) Epic Cycles - Scott WRT
6. Charline Joiner (GBR) Pearl Izumi Sports Tours International
7. Clemence Copie (GBR) Mule Bar Girl - Sigma Sport
8. Lauren Creamer (IRL) Pearl Izumi Sports Tours International
9. Sigrid Jochems (NED) Matrix Fitness - Vulpine
10. Gabriella Shaw (GBR) Pearl Izumi Sports Tours International
Overall Individual Standings, post-Round Two
1. Eileen Roe (GBR Starley Primal, 39pts
2. Charline Joiner (GBR) Pearl Izumi Sports Tours International, 28pts
3. Hannah Walker (GBR) Epic Cycles - Scott WRT, 24pts
4. Natalie Creswick (GBR) Mule Bar Girl - Sigma Sport, 23pts
5. Harriet Owen (GBR) Matrix Fitness - Vulpine, 21pts
Overall Team Standings, post-Round Two
1. Pearl Izumi Sports Tours International, 98pts
Overall Sprint Standings, post-Round Two
1. Louise Mahe, MuleBar Girl - Sigma Sport, 12pts