Tejvan Pettinger continues national hill-climb build-up with Cotswolds win
British hill-climb round-up (Sept 14-15): News and results from around the UK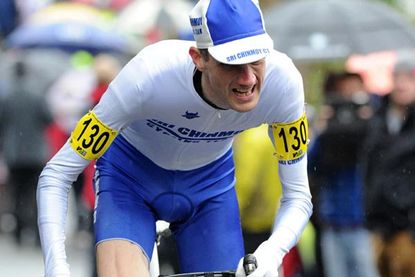 Reigning national hill-climb champion Tejvan Pettinger continued his great form in 2014 with victory in the Cotswold Veldrijden three-stage event on Saturday.
Pettinger, 37 and from Oxford, already had two victories in the bag this season as he prepares to defend his crown, having won the Glossop Kinder Velo and Buxton CC events over the last two weeks.
He was fastest up all three of the climbs near Swindon on Saturday, clocking a total of 12-22.2, which was 28 seconds quicker overall than runner-up Ben Davies (BH Solidor-WAM Youth), with Danny Axford (Arctic TACX) third, another seven seconds off the pace.
Top veteran was Jon Hughes (VC Godalming) with 13-37.2, while Gabriel Chinn (VC Montpellier) was fastest junior with 14-49.3.
Elsewhere, in the Welsh CA Championship, Team Elite's Dan Evans took first place as he completed the climb in Llangadog in 12:18.
He was 21 seconds faster than his closest rival, Rapha-Condor-JLT's Ed Laverack who clocked a 12:39.6. Port Talbot Wheelers rider Rhys Lloyd was third in 13:45.3.
The Border City Wheelers Hill Climb took place on a course near Melmerby in Cumbria and was won by Nickson Cycles rider John Findley with a time of 19:32.2.
Attendance was up on last year with 68 entrants and a record low of non-starters. The event suffered from gales last year, causing many to drop out but with just a slight headwind this time out, the climb proved much more popular.
Findley was eight seconds quicker than second-placed Carl Donaldson of GS Metro and 17-year-old Border City Wheeler Alex Foster completed the top three with a time of 20:14.5.
Another Border City Wheeler, Hugh Green, won the junior category. His time of 22.31.2 was enough to see off the challenges of Alistair Maxwell of One Life Racing and Ben Pickett Allen Valley Velo.
Fastest woman was Angela Hibbs of Tyneside Vagabonds in a time of 23:17.0 and the senior category was won by Mark Harrison of Houghton CC in 20:25.1.
In the V40 race, Michael Openshaw of Cestria Cycles topped the billing with a 20:23.6 and the first V50+ rider was Neil Baxter of Blumilk.com in 21.56.4.
And in East Lancashire RC's Blackstone Edge climb, Henry King (Ilkley CC) was overall winner after excelling on the longer stage two.
Stage one was won by 2013 winner Lee Baldwin (Champion System) by 1.6sec, but King won the second stage by 23 seconds, giving him the win by 21 seconds.
Third on both stages gave Chris Dyke (Manchester Wheelers) the same placing overall, while Theo Jefferies (Westmead Team 88) was best junior and Henry Cash (Holme Valley Wheelers) best juvenile.
Paul Targett (Pendle Forest CC) finished as best veteran, while Claire Munton (Vegetarian C&AC) was top female.
Thank you for reading 20 articles this month* Join now for unlimited access
Enjoy your first month for just £1 / $1 / €1
*Read 5 free articles per month without a subscription
Join now for unlimited access
Try first month for just £1 / $1 / €1