Waller Pain hill-climb returns for 2014
Surrey hill-climb event takes place on Sunday June 8 in Surrey town of Caterham - Neither defending champion will be present, opening way for new winners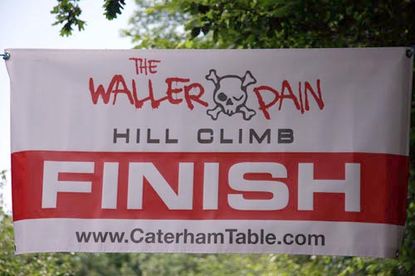 The Waller Pain hill-climb returns on Sunday June 8 2014 for a fifth edition on the steep incline of Waller Lane in Caterham, Surrey.
Neither of last year's fastest male and female riders - John Storms and Maryka Sennema - will return this year, clearing the way for new faces to appear on the top step of the podium.
Waller Lane is a narrow road running from the centre of the Surrey town that pitches up at 20 per cent in places, and includes 210 feet of climbing over its 0.31-mile length. Matt Pilkington set an event record in 2011 of one minute and 14 seconds. You can view the climb on Strava.
In addition to hardened hill-climbers, the event is open to novice riders, men and women, with categories for under-16s. The emphasis is firmly on having some fun and the event is part of the annual Caterham summer festival, so there's always a decent crowd cheering on the riders.
Entry is on the day only, and costs £5, or £2.50 for those aged 16 and under. Registration opens at 9am, with first rider off at 10am.
More event details can be found on the Caterham Round Table website.
Waller Pain: previous winners
2013 John Storms
2012 John Storms
2011 Matt Pilkington
2010 Hal Bransby
Waller Pain Hill-Climb 2013: Joint winner in men's event as Maryka Sennema sets new women's record in Caterham, Surrey
Thank you for reading 5 articles this month* Join now for unlimited access
Enjoy your first month for just £1 / $1 / €1
*Read 5 free articles per month without a subscription
Join now for unlimited access
Try first month for just £1 / $1 / €1