'It can be tough racing in France with the Sky jersey on'
French rider Kenny Elissonde has yet to race in his native country wearing the Team Sky jersey, and doesn't know what reception he'll get from fans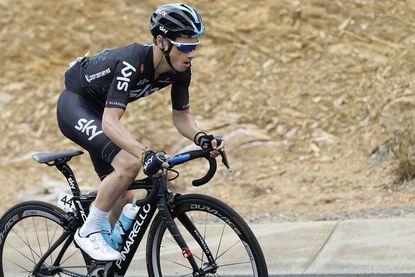 (Image credit: Yuzuru Sunada)
Team Sky's new French climber Kenny Elissonde says that he understands the difficultly for the British team racing in the Tour de France in July.
Elissonde, joining from French team FDJ, is Sky's first French cyclist since Nicolas Portal and Sylvain Calzati in 2010. Not only has he joined a foreign team, but one that some fans in France have punched, spat at and tossed urine on.
"My family and friends are supportive, but maybe others think differently about it," Elissonde said of his decision to join Sky.
"I'll have that first feeling if I race Paris-Nice or the Dauphiné, I know that it can be tough to race in France with Team Sky jersey. I will discover that. Maybe I'll see what it's like, what the riders have been talking about."
Elissonde, with a smile and black forelock, sat trimming his back number ahead of the Abu Dhabi Tour stage two.
This marks his second block of racing after starting in Australia in the Tour Down Under. He went on to help Froome in the Herald Sun Tour before coming to the Middle East. Although he is based in Nice with many of Sky's riders, he has yet to race in his new black colours at home in France.
"I don't think the French will yell at me. They are not like that. I don't know," Elissonde said.
"I heard some stories from my Sky team-mates, who have been through some particular moments in France. The Tour is quite hectic. At the moment, I can't speak about what I don't know about. In FDJ, it was clearly different and the French loved us!"
Two years ago, the situation reached a boiling point. In one incident, Froome said a roadside spectator threw a cup of urine on him. Richie Porte, now with BMC, said he was punched. And some mornings, fans booed Great Britain's super team.
>>> Chris Froome hit with urine as Tour de France fans get nasty (July 2015)
However, Elissonde embraces Sky and the chance to continue to develop. The 25-year-old already won the Angliru stage in the 2013 Vuelta a España in his four years with FDJ.
"It's all new and still fresh, but it's a great experience for me. I like it," he said.
"The teams are different, but I think every team is different. There are some leaders, plenty of leaders in team Sky, where in FDJ it was more focused on Thibaut Pinot.
"The culture is different, the training and everything is different as a result. I changed my trainer. I changed from A to Z. There is nothing similar to last year."
Sky took him to the Tour Down Under, the first time since 2014 for him. He then lined up alongside Froome.
His plan is to support Froome, but that chance may not come in the Tour de France already this season.
"Froome is very strong, he trains very hard. It's not easy, following his training is too much for me and many people. He trains a lot, he has good recovery, and it's just impressive to see him train," added Elissonde.
"You need to be ready when you see Sky's team line up. I just want to go step by step. I need to improve to do that, maybe the Vuelta a España will be the next objective. At first I need to see how I fit into the team."
Thank you for reading 20 articles this month* Join now for unlimited access
Enjoy your first month for just £1 / $1 / €1
*Read 5 free articles per month without a subscription
Join now for unlimited access
Try first month for just £1 / $1 / €1