Completely new look for Peter Sagan as he shaves his head
Shower manufacturer Hansgrohe might not be best pleased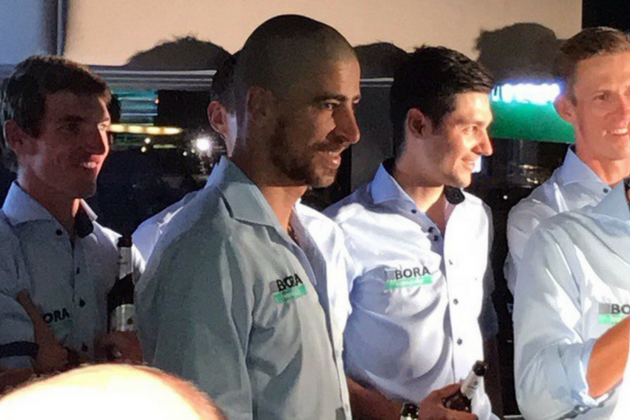 (Image credit: Instagram/Hansgrohe Belgium)
In a move that could spell disaster for his sponsor's future advertising campaigns, Peter Sagan has shaved off his long hair to go for a full skinhead look.
Team sponsor and shower manufacturer Hansgrohe has made extensive use of the two-time world champion's luscious locks since the start of the year, but might have had a bit of a shock when the Slovak star turned up at the team's post-Tour de France party in Paris.
Perhaps no longer enjoying having thick hair under helmet while riding in hot conditions, Sagan has gone back to the short hair that he had from when he first burst onto the scene in 2010 before starting to let it grow in 2015.
He's also decided to pair the shaved head with some roughly trimmed facial hair, bringing himself alongside the likes of Dave Zabriskie and Mitchell Docker in the fine tradition of moustaches in the pro peloton.