Downing wins Monsal hill climb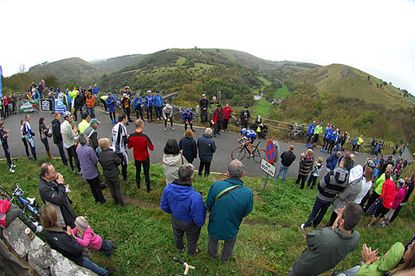 Team Sky pro Russell Downing notched up his fourth victory in the Monsal hill-climb in Derbyshire on Sunday, clocking 1-20.5 to win comfortably by seven seconds over the tough 675-yard climb.
The 80th running of the event, Downing's victory was watched by hundreds who lined the course, which starts off virtually flat but builds to a one in six finish at the top of Monsal Head.
But with a head wind blowing over the course and reported problems with over-gearing, his time was 2.2 seconds off his own best time for the course from 2003, and was a massive 6.3 seconds slower than the long-standing course record.
Malcolm Elliott was there to watch Downing miss out on breaking his record of 1-14.2, set in 1981 when the Motorpoint pro rider was in his heyday.
South Pennine RC's Charles Taylor took second, seven seconds slower than Downing, while Chris Metcalfe (Matlock CC) was third.
Elsewhere, Team Raleigh's Mike Cuming underlined his good form ahead of the National Championships in two weeks time when he beat former national champ Matt Clinton twice on Saturday.
Cuming, 19 and from Stoke, pushed Clinton into second spot in both the Holme Valley Wheelers and Huddersfield Star Wheelers events, run on Brockholes Lane and Jackson Bridge courses respectively.
He won by 10.1 seconds on Saturday morning over the 1.3-mile course, but was just 0.4 seconds ahead of Clinton (Mike Vaughan Cycles) in the afternoon's event over 1,540 yards.
In West Sussex, In Gear-Quickvit's Pete Tadros won the Brighton Mitre event on the 1,672-yard climb of Steyning Bostal, clocking 3-55.7 to win by around four seconds from Team Corley Cycles rival Chris McNamara, while his In Gear team-mate Will Mangar was third, another 8.6 seconds off the pace.
However, Mangar stepped up in the afternoon's race on Mill Hill at Shoreham, covering the longer 4,682-yard climb in 8-30.7 to beat Tadros by 5.2 seconds, and with Conall Yates taking third, it was a 1-2-3 for the In Gear-Quickvit team.
Elsewhere, former national champ James Dobbin won the Wrexham Road Club event on the Horseshoe Pass climb near Llangollen, the Arctic Premier rider winning by 20 seconds.
But he had to settle for second the previous day in the Chippenham and District Wheelers event on Bowden Hill, where Steve Allen (Kenilworth Wheelers) won by 11 seconds.
Veteran Chris Myhill (Peak RC) was 26 seconds faster than his nearest rival as he took victory in the Lyme RC climb of Mow Cop in Cheshire.
Meanwhile, down south, amateur Robert Gough (Arctic RT) narrowly held off the anticipated challenge of the professionals to repeat his 2009 victory in the Catford CC event on Yorks Hill near Sevenoaks. Clocking a time of 1:49.2, he finished six tenths of a second ahead of national nill climb champion Dan Fleeman (Team Raleigh) with Michael Smith (Team Corley Cycles) in third and Kristian House (Rapha-Condor-Sharp) in fourth.
As the action moved onto nearby White Lane for the Bec CC event in the afternoon, it was youth rider Germain Burton (De Ver Cycles) who stole the show. Despite being just 15 years old, his time of 1:45.3 have him the victory ahead of Gough and Fleeman.
Thank you for reading 20 articles this month* Join now for unlimited access
Enjoy your first month for just £1 / $1 / €1
*Read 5 free articles per month without a subscription
Join now for unlimited access
Try first month for just £1 / $1 / €1