Eight gold medals for Team GB's track cyclists in Rio 2016 Paralympic Games
12 medals in total for Great Britain from the track cycling disciplines at the Rio 2016 Paralympic Games - All photos by OnEdition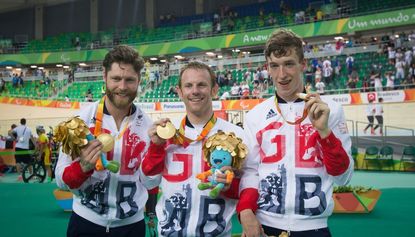 (Image credit: onEdition)
Great Britain topped the medal table for the track cycling events at the Rio 2016 Paralympic Games. The British squad claimed a total of eight gold medals as part of a 12-medal haul in Brazil.
Sunday saw the final events in the Rio velodrome, and it proved to be a golden day for GB as they surpassed the London 2012 tally of five track gold.
Track sprint trio Jody Cundy, Jon-Allan Butterworth and Louis Rolfe set a new world record with their gold medal winning ride. It added another gold medal to Cundy's win in the C4-5 1km time trial on Friday, putting to bed his bitter experience in the 2012 London Games when he was disqualified due to an issue with the start gate.
"After four years ago, that was probably the lowest I've ever been; this is probably the highest I've ever been," Cundy said to British Cycling after the event.
>>> Rio 2016 Paralympic Games cycling events: Latest news and info
"For the kilo, I was properly nervous and I didn't really enjoy it that much but for this one, with these guys and the way they've been riding for the last few months, it's just a pleasure to get up there.
"The fact that we broke the world record in the heats, we knew there were a few little things we could tweak and we just got it all right in that last ride."
Also on Sunday, Lora Turnham and tandem pilot Corrine Hall took the victory in the women's B individual pursuit, getting the better of New Zealand.
Sophie Thornhill and pilot Helen Scott gave GB another podium spot in the discipline, winning the ride-off for bronze. Thornhill and Scott had already claimed gold in the B women's individual time trial.
In the men's B 1km time trial, Neil Fachie and tandem pilot Pete Mitchell took silver, beaten by Dutch pair Tristan Bangma and pilot Teun Mulder.
Kadeena Cox also set a new world record in the C4-5 women's time trial over 500m, becoming the first British athlete since 1988 to claim medals in two different sports in the same Games after she took bronze in the T38 100m athletics on Friday. It was her cycling debut. Dame Sarah Storey finished in fourth, but had taken gold in the C5 women's individual pursuit last week to become Britain's most decorated Paralympian.
Megan Giglia (C1-3 women's individual pursuit) and Steve Bate with pilot Adam Duggleby (B men's individual pursuit) had secured gold medals on the opening day of the Games on Thursday.
Storey goes into the road disciplines as defending champion in the women's C5 time trial and C4-5 road race events. The road events take place over September 14-17.
Great Britain's Rio 2016 Paralympic Games track cycling medals
Gold
Jody Cundy, C4-5 men's 1km time trial
Steve Bate (pilot Adam Duggleby), B men's individual pursuit
Kadeena Cox, C4-5 women's 500m time trial
Sophie Thornhill (pilot Helen Scott), B women's 1km time trial
Lora Turnham (pilot Corrine Hall), B women's individual pursuit
Megan Giglia, C1-3 women's individual pursuit
Sarah Storey, C5 women's individual pursuit
Great Britain (Louis Rolfe, Jon-Allan Butterworth, Jody Cundy), C1-5 men's team sprint
Silver
Neil Fachie (pilot Pete Mitchell), B men's 1km time trial
Crystal Lane, C5 women's individual pursuit
Bronze
Louis Rolfe, C2 men's individual pursuit
Sophie Thornhill (pilot Helen Scott), B women's individual pursuit
Thank you for reading 5 articles this month* Join now for unlimited access
Enjoy your first month for just £1 / $1 / €1
*Read 5 free articles per month without a subscription
Join now for unlimited access
Try first month for just £1 / $1 / €1