'My eye is held in place with a metal plate': Wiggle-High5 rider has plastic surgery after Tour Down Under crash
Macey Stewart hoping for quick recovery from injuries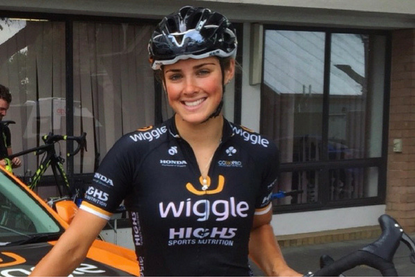 (Image credit: Wiggle-High5)
Australian rider Macey Stewart says that she hopes to make a quick recovery after undergoing plastic surgery on injuries sustained in a crash at the Tour Down Under.
The final lead-out rider for Nettie Edmondson crashed on the final corner of the opening stage of the race, hitting a metal barrier in the finishing straight.
"On the first stage of the Tour Down Under we had had a really great team race, especially being our first race together," Stewart sayd recalled. "Within the last 200 metres I had dropped Nettie off for the sprint – which she won – and whilst still sprinting for the finish myself I clipped a metal barricade that was protruding onto the road.
"As I was travelling so fast and was stopped very abruptly when hitting the barricade, I sustained injuries to most of my body."
>>> Australian national champion shares shocking photos of her injuries after Tour Down Under crash
Stewart was treated at the scene for what medical staff initially thought were only minor injuries, before the full extent of her injuries became clear in hospital where it was discovered that she had a collapsed eye socket and a fractured toe, the former requiring plastic surgery.
"After a trip via ambulance to hospital and many doctors visits and X-rays due to the pain I was in, it was discovered I had a severe fracture/collapse in my eye socket, a fractured big toe and lots of skin off," Stewart continued.
"I underwent plastic surgery on my eye on Wednesday, which ended up being more invasive than first thought. I now have a plate replacing my orbital floor and holding my eye in place.
"It has taken more out of me than I thought, however, I am hoping to recover quickly and be back on an ergo as soon as possible."
>>> 'A huge step forward for women's cycling': Equal Tour Down Under prize money for men and women
Wiggle-High5 say that Stewart will be able to return to indoor training soon so long as her toe heals properly. However the team is not giving a timeline for her return to the road.
Stewart was not the only rider to suffer nasty injuries as a result of crashes at the Tour Down Under, with Rebecca Wiasak sharing photos of nasty road rash which she suffered to her face after also crashing on the opening day.
Thank you for reading 20 articles this month* Join now for unlimited access
Enjoy your first month for just £1 / $1 / €1
*Read 5 free articles per month without a subscription
Join now for unlimited access
Try first month for just £1 / $1 / €1