Geraint Thomas: 'I can't wait to get to the Giro now and just race'
Thomas says the Tour of the Alps has been tough but winning it has boosted morale for the Giro d'Italia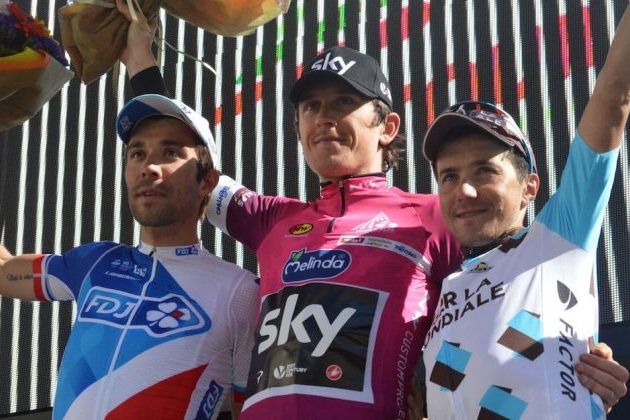 The peloton had completed less than 10 kilometres of the final stage of the Tour of the Alps to Trento when Team Sky's Ian Boswell went down heavily and was soon being guided towards an ambulance gingerly holding his shoulder, his race over.
>>> Geraint Thomas confirms Tour of the Alps victory with third place on final stage
Two men down on some rival teams since the start of the event, it left his team with just four men to defend Geraint Thomas's slender lead over the serious test of Monte Bondone and much more climbing besides.
In the end, though, as they have all this week, Sky's riders responded to everything thrown at them. Even when Thomas ended up isolated after a flurry of attacks on Monte Bondone, Mikel Landa managed to work his way back up to his leader and set the pace for almost the rest of the way into the finish.
Thomas was pleased to have come out of his last race before he lines up in the Giro d'Italia with overall victory and confirmation that his form is exactly where he hoped it would be at this point, as is the condition of some of his likely teammates for the corsa rosa.
"It was a tough day today and, with the way the boys rode for me, I was really happy to finish it off, especially because we lost Boswell in a crash soon after the start. I was really happy to finish off all their hard work," said Thomas in his post-race press conference.
He highlighted the ascent of Monte Bondone as the key point. "I was getting attacked there and we were under pressure," he admitted. "I thought Thibaut Pinot seemed to be the strongest so I followed him. Every time he swung over, I swung over.
"He was strong but I managed to stay with him. Then Landa came up for the final 5k or so of that climb and it was perfect then. He took us all of the way to the final climb, and I felt really good."
Relieved to hear after the stage that Boswell was in the Sky bus having the doctors found no broken bones, Thomas said Sky hadn't been affected as much as they might have been by his loss.
"I saw him crash and it looked really heavy. I was pretty sure he wasn't going to come back. Luckily, the right break went away and we let it get a good lead.
"Then the Gazprom guys came up and really put pressure on to get the break back and had almost managed that when everyone started racing for the stage again on Bondone."
It was on that legendary ascent that Michele Scarponi and, notably, Pinot went on the attack. Thomas stuck with them and looked comfortable, but even more so when Landa came up to join them.
"Landa has been amazing all week, especially with the work he did on the front for me today and yesterday," Thomas acknowledged.
"We've got two strong riders going into the Giro and we can bounce off each other. We'll start with the same opportunities and, come the final week, there will be a natural selection. If he's better than me then I'll help him and vice versa."
The Welshman was full of praise to for the Tour of the Alps. Despite problems with cold weather early in the week, the revamped Giro di Trentino has still provided a rigorous test.
"I don't think there could have been any better last race to have before the Giro than this. We've had five hard days, a lot of climbing, so it's been a great bit of final preparation," said Thomas.
"Winning here is obviously a good boost to morale. Defending the jersey like we have is encouraging but, as I've said before, five days is completely different to three weeks.
"There'll be a lot more depth in the Giro field as well. I'm looking forward to it, though. I can't wait to get there now and just race."
Thank you for reading 5 articles this month* Join now for unlimited access
Enjoy your first month for just £1 / $1 / €1
*Read 5 free articles per month without a subscription
Join now for unlimited access
Try first month for just £1 / $1 / €1