Giro director Michele Acquarone issues public statement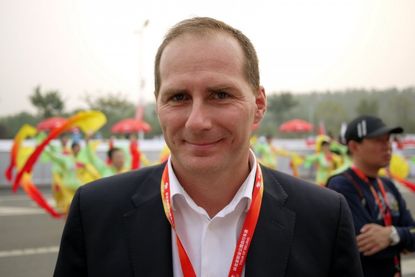 Italian Michele Acquarone has responded to news of his precautionary suspension as RCS Sport Chief Operating Officer amidst an internal company audit.
Acquarone did not attend the recent 2014 Giro d'Italia course presentation in Milan after Italian media reports of an investigation into an alleged misappropriation of some €13 million.
The Italian boss today issued a statement that denied any wrongdoing and aimed to reaffirm his good reputation.
The statement read: "I have already dedicated 14 years of my life to the RCS Group, the last five of which I spent working tirelessly on strengthening and growing RCS Sport. As director of Giro d'Italia I sought to develop the prestige of this event as part of Italy's heritage and for cycling fans all over the world. Looking at the results, I would say that I have succeeded.
"It was much to my frustration however that I could not participate in the presentation of that which I consider one of my most accomplished creations, the 2014 Giro d'Italia, and I apologise to all the friends I could not meet with," it continued.
"Those who know me are well aware that my professional style is based on three key concepts: fairness, respect and dialogue. Those who know me also know that I hold the trust of fans and of people involved in the industry, at the centre of my heart, and if today I can benefit from such trust it is because I have always worked with greatest transparency and honesty, as well as with total dedication and loyalty to the RCS Group.
"For the ties linking me to Giro fans and to the people involved in the industry, I want to strongly reassure everyone of my non-involvement in the matters that have been reported in the mass media over the last few days. Today the life of a company is permanently marked in time and I am certain that all the facts will soon be completely clarified.
"I only dream about the day I can return to my team, and get back to working towards the 2014 Giro d'Italia, with even greater enthusiasm than that which has driven me over these years."
RCS Sport runs some of cycling's biggest events including Milan-San Remo and the Giro.
Thank you for reading 20 articles this month* Join now for unlimited access
Enjoy your first month for just £1 / $1 / €1
*Read 5 free articles per month without a subscription
Join now for unlimited access
Try first month for just £1 / $1 / €1