Scheldeprijs champ Marcel Kittel coy on Giro schedule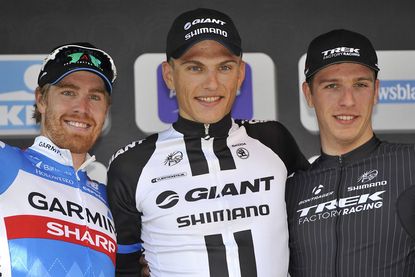 (Image credit: Watson)
Marcel Kittel is hesitant to commit to a full Giro d'Italia campaign ahead of his race debut next month.
The 25-year-old has outlined his ambition to win stages in the first Grand Tour of the season that begins in Northern Ireland and could present sprinters with a chance to wear the pink leader's jersey in a fairly flat opening week.
Kittel, who won a historic third consecutive Scheldeprijs title in Schoten, Belgium yesterday, deferred to Giant-Shimano marketing and communications manager Geert Broekhuizen today when asked of his intentions to finish the race.
"He's starting the Giro and we'll see how far he goes. It's a challenging Giro," said Broekhuizen.
In recent years sprinters have observed a trend to respectfully withdraw from the Italy spectacle before it hits the high mountains. Mark Cavendish (Omega Pharma-Quick Step) made an exception in 2013 riding all the way to Milan where he won the points classification. However, it, and more race days, took a physical toll, the Manxman said, in the run to the Tour de France.
The Tour is again a big objective for Kittel who proved the fastest at the 100th edition last year winning four stages, the most of any rider, including the Grand Depart and Champs Elysees finale.
"Last year, for me, it was a big step to finish a Grand Tour," Kittel told Cycling Weekly today. "I have to see that I take healthy development as a rider and maybe two Grand Tours in a year can be too much, or have an influence in the second Grand Tour that I would like to do. I want to be in my best shape at the Tour. That's my big goal."
Kittel has a comparably scant Grand Tour history to some of his primary rivals. He made his Grand Tour debut as a neo-professional at the 2011 Vuelta a Espana where he won a stage before exiting after the second week as rookies typically do. He arrived on a blue cruiser to the 2012 Tour team presentation but his debut there ended in the first week due to illness. The rest is history.
The 2014 Yorkshire Grand Depart will present the German with another opportunity to win the first yellow jersey of the race, and Giant-Shimano is set to recon the area later this month.
Kittel smashed the competition at Scheldeprijs finishing a significant length ahead of Tyler Farrar (Garmin-Sharp) and Danny van Poppel (Trek) to become the first cyclist to win the 200.9km race on three consecutive occasions.
The 102nd edition was a major target for the sprinter who found extra motivation through a winless March in Europe.
"After De Panne, and also after Tirreno, I was quite disappointed and frustrated because I had really good legs but couldn't manage to win a race," Kittel said. "That gave me really a lot of motivation to give everything and do my best [here].
"It's a very important race for a sprinter because all of the good sprinters have won here," he continued. "I think the reputation of the race is very big and you can prove yourself as a team and also as a rider if you show a good performance."
The prize for winning Scheldeprijs is famously rich. Last year Kittel was presented with a shiny rock. He'd then joked it may help him find a girlfriend and the subject of eligible bachelor status was not forgotten by one journalist who asked a follow-up question in a post-race press conference.
"So far I haven't found anyone," the happy winner replied. "But I think it's not a woman for life if I can impress her with diamonds!"
The gold and diamond encrusted treasure Kittel was presented with yesterday is worth a healthy sum but one he later commented could be split across eight trophies for the whole team. Generally speaking, confidence from winning consecutive accolades though may prove the most valuable resource come the Yorkshire Grand Depart where Kittel is aiming to repeat his 2013 Tour start.
"To win a race for the first time it's not easy, but it's much more hard to defend the title two times," he said in regard to Scheldeprijs. "I think that's where we can be especially proud as a team."
Kittel, who attended numerous press engagements in Belgium today, will now take a short race break before starting the Tour of Romandie in the run to the Giro.
Twitter: @SophieSmith86
Marcel Kittel - rider profile, biog, cycling results, photos
People's Choice Classic 2014 report: Marcel Kittel sprints to win as Giovanni Visconti fractures leg in 50km criterium
Giant-Shimano sprinter Marcel Kittel will start his 2014 campaign in the Tour Down Under. Will this be the year he
German sprinter enjoying life in the fast lane
Argos-Shimano continues its emphatic winning streak at the Tour de France
Thank you for reading 20 articles this month* Join now for unlimited access
Enjoy your first month for just £1 / $1 / €1
*Read 5 free articles per month without a subscription
Join now for unlimited access
Try first month for just £1 / $1 / €1