Marcel Kittel 'not scared' of sprint rivals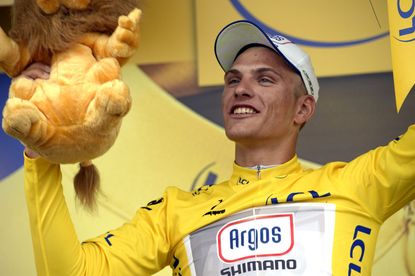 Marcel Kittel quit athletics for cycling when he was 13, raced in cross-country mountain biking ("which was kind of funny because of course I didn't like the climbs it was really a lot of fun to go downhill"), was on the German national road team as a youth, progressed through the ranks and hasn't looked back since.
Is it true that your first big successes were in time trialling? Were you originally really a time trial specialist?
"Yes. They did tests at Skil-Shimano and up to then my biggest wins were in time trials. I was twice world junior TT champion, then at Geelong I got the bronze at U-23 level. But when I started riding locally at youth level, the first time we worked as a team because it was then already clear I was the best sprinter in the group.
"We organised lead outs for me in the sprints and we won as a team, which was a good lesson to learn, so young."
How did the shift to full-on sprinter take place?
"I changed my training, did more explosive training on the bike and in the gym. It was also important to change your mindset, you need to be there in the final, you need to work with the team in the finale and fight for the wheel - and that's what you have to learn. We did a lot of coaching and actually by doing races you learn what it took to be a good sprinter."
Does part of what it takes to be a top sprinter include not being afraid? Are you ever scared?
"Nah, I not afraid in the sprints. For me, even when I was younger it was always a lot of fun and very intense. I think I always had the talent to give everything in the sprint and do that together with the team. There was never a moment when I was scared in a sprint and it's still the same as a professional.
"When you look at the Tour I think you see some really good examples of what it takes to win. You need very good lead outs and the most important thing is the team work which in the end gives you the possibility to be there at the end and to be sprinting for the win. I'd say that another strength of mine is to be a team player and work together with the boys.
"For me, in the end it is all about high speed, you need to have the sort of speed it takes to win - the fastest guy wins. It sounds simple but you need an eye for the wheel and you have to stay cool as well."
Did you start the 2013 Tour de France confident that you could win a stage?
"Well, it's more like the whole team and me had a very strong and healthy confidence that we belonged with the best guys and we could beat the best. And if you have that sense of belief that's very important.
"So you stick together and focus on your goal, but you are always looking for proof of that feeling, which we got after we won the first stage. After that it's easier to go into the next stage and the next races and go for the victory again."
After you won, is it true that Mark Cavendish complimented you?
"Yes. I think - I hope - it was an honest reaction and I am proud of that and they whole team can be proud of it. The fact that we are recognised as a very good team, as one of the best, it gives me and the team a little extra boost, to stay up there and maybe improve a little."
The prospect of the 25 year old Kittel and his lead-out train 'improving a little' is not probably one that fills his sprint rivals with much comfort. At the Tour Down Under, Kittel's opening race of 2014, we may get a glimpse of any progress that he's made.
Twitter: @KenBobPryde
Related links
Tour Down Under 2014: Preview and coverage
Thank you for reading 20 articles this month* Join now for unlimited access
Enjoy your first month for just £1 / $1 / €1
*Read 5 free articles per month without a subscription
Join now for unlimited access
Try first month for just £1 / $1 / €1