'He's never seen snow before and doesn't know how to deal with the cold'
The Eritrean teenager who is quickly making a mark at the Tour of the Alps on his very first trip to Europe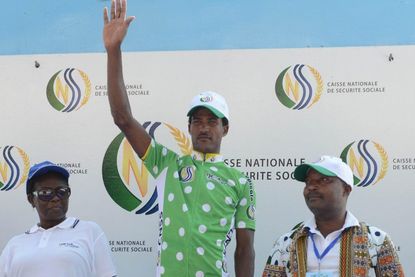 (Image credit: AFP/Getty Images)
It's easy to miss the Bike Aid team in among the luxury buses and team cars of the major teams at the Tour of the Alps.
Sitting in a tight space in between two swanky buses, their white van would look more at home in a builder's yard than the start of a top pro race, their riders sitting around it in deck chairs as they prepare for the fourth stage start in Bolzano.
>>> Geraint Thomas: Being joint leaders takes pressure off me and Mikel Landa at the Giro
Among the eight-rider line-up fielded by the German cycling community/club/charity that is giving talented African riders a taste of top-level racing to boost their experience are two Kenyans and Eritrean teenager Awet Habtom Tekle. Just 18, like his teammate Salim Kipkemboi, Habtom arrived in Europe just the day before the race started.
It's fair to say, he's learned an awful lot over the past five days.
"He's an incredible talent," Bike Aid's founder and team captain on the road Timo Schäfer tells Cycling Weekly. "He got seventh in the world junior time trial championship last year, but he didn't have anything like an aero position. He was like a sail in the wind.
"He rode in the same position at the African Continental Time Trial Championship in February and took third place behind Bike Aid's Meron Teshome, finishing just 49 seconds down and recording an average speed of 47.5km/h over 43km. He's astonishing!"
Schäfer, a former marketing manager who founded Bike Aid with a friend in 2005 and quit his job two years ago to devote himself to the community full time, offered Habtom the opportunity to boost his experience with the community-based team.
"I thought he would be a real talent as a climber and that's been highlighted in this race. He had some bad luck on the first day with a crash, but he's looked strong since then," says Schäfer. "But the key thing has been the weather. That's been the major difference for the African riders.
"They'd never seen snow before and they don't know how to deal with the cold. We tell them when they need to put jackets on and feed, but if you don't have experience of doing those things at the right time then you're going to struggle."
Bike Aid DS Sven Krauss, who rode two Tours de France with Gerolsteiner a decade ago, can see that ability too.
"He was in the race leader's group on the Passo Rodengo on stage three, lost a minute on the descent three-quarters of the way up the climb, then got within 200 metres of the group by the top of the climb," says Krauss.
"Unfortunately, he almost froze on the descent because he didn't have the right clothing with him and hadn't eaten properly. But that's all part of the experience for these guys. These are the kind of things that they've got to learn."
Thank you for reading 10 articles this month* Join now for unlimited access
Enjoy your first month for just £1 / $1 / €1
*Read 5 free articles per month without a subscription
Join now for unlimited access
Try first month for just £1 / $1 / €1
Peter Cossins has been writing about professional cycling since 1993, with his reporting appearing in numerous publications and websites including Cycling Weekly, Cycle Sport and Procycling - which he edited from 2006 to 2009. Peter is the author of several books on cycling - The Monuments, his history of cycling's five greatest one-day Classic races, was published in 2014, followed in 2015 by Alpe d'Huez, an appraisal of cycling's greatest climb. Yellow Jersey - his celebration of the iconic Tour de France winner's jersey won the 2020 Telegraph Sports Book Awards Cycling Book of the Year Award.