Lance Armstrong says power meters should not be banned but data should be made public
Armstrong has weighed in on the debate after the Tour de France director said he wants power meters removed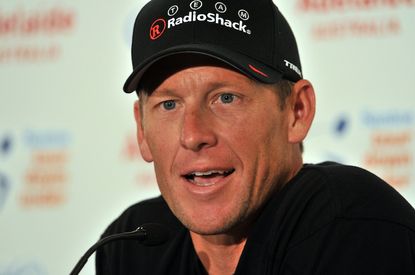 (Image credit: Watson)
Power meters should not be banned from the Tour de France but data should be made public, according to Lance Armstrong.
The stripped seven-time Tour winner weighed in on the power meter debate after race director Christian Prudhomme said he wanted the technology banned.
Speaking on his podcast THEMOVE, Armstrong discussed the issue with his former directeur sportif Johan Bruyneel.
Armstrong said: "Some of these [Tour de France] stages are so f*cking boring. And you saw this year we have some really long stages.
"As opposed to taking away these power meters, how about we make that public.
"Make race radio public, power meters public, so we see in these long boring days you at least get to see some watts, some heart rates.
"At some point you have to say 'how valuable is this content?'
"I think it's very valuable and I think it's worth it for the guys to just say 'we're all going to do it. We're all going to share and give that to the fans.'"
>>> Tour de France 2019 route revealed: Five summit finishes to celebrate 100th anniversary of the yellow jersey
Last week, the 2019 Tour de France route was unveiled in Paris.
During the presentation, race director Christian Prudhomme said he wants to ban power meters from the Tour saying the technology "annihilates the glorious uncertainty of the sport."
According to some, power meters negatively impact racing as pros measure their attacks and steadily chase down those racing on instinct.
The controversy over power meters has rolled on in recent years, in part due to the Grand Tour dominance of Team Sky.
Armstrong's former manager Johan Bruyneel also weighed in.
Speaking on Armstrong's podcast, Bruyneel said: "I think it's ridiculous.
"Even if they do [ban power meters] it's not going to change anything.
"These guys know exactly how far they can go. They're not going to ban heart rate monitors.
"If the rider knows his limits, even without the monitor they all know perfectly how far they can go."
Bruyneel was recently banned from cycling for life for his role in the systematic doping at the US Postal Service team in the early 2000s.
Thank you for reading 5 articles this month* Join now for unlimited access
Enjoy your first month for just £1 / $1 / €1
*Read 5 free articles per month without a subscription
Join now for unlimited access
Try first month for just £1 / $1 / €1