Skipping desserts: Quick-Step doctor reveals secret behind Niki Terpstra's Tour of Flanders success
As easy as that...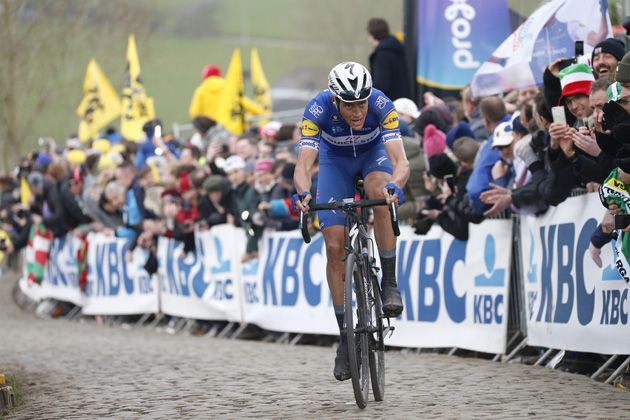 (Image credit: Yuzuru SUNADA)
With one Paris-Roubaix victory already under his belt, Niki Terpstra always had the potential to win the Tour of Flanders, and his secret for stepping up from second and third places that he took in 2015 and 2017 is simpler than you might think.
"Eat a little less and don't be tempted by sweet and desserts," was the advice of Quick-Step Floors team doctor to the Dutch rider at the end of the 2017 season.
And that advice seemed to work well, with Terpstra arriving at the team's first training camp in December having lost two kilos and being able to sustain that weight through to the Tour of Flanders on Sunday.
>>> Niki Terpstra uploads Tour of Flanders ride to Strava, revealing the stats behind his stunning victory
"Niki managed to lose two kilograms this winter," Vanmol told Belgian television station Sporza. "It's not that Niki was fat before, but those two lost kilos make the difference between just being there at the end
"Niki himself knew that he was a bit overweight. It was not a muscle mass he lost, he did not have to follow a special diet, he had to adjust his normal diet - eat a little less and not be tempted by sweets and desserts.
"There is nothing more to it, this has not been a challenge. It is common sense: two kilograms less can make an crucial difference in a race with lots of climbs."
Watch: Six weight loss tips for cyclists
However while Vanmol said that weight loss was key in Terpstra's Flanders victory, he is also keen to stress that this is not always the right solution for all riders, and than riders need to be aware of the dangers of developing eating disorders in pursuit of losing weight and chasing race victories.
>>> Quick-Step Floors announce thei usual phenomenally strong Paris-Roubaix team
"I have always avoided being fanatical with weight," Vanmol continued. "The line between normal handling of your weight and developing a eating disorder is very thin, especially with GC riders.
"I will definitely not say that there is an ideal weight or amount of weight to lose, and in my 30-year career I've already seen enough problems with people who were fighting with weight loss."