The official Tour des Fjords Twitter account is providing a great race commentary
The Tour des Fjords Twitter account is proving to be a great follow during the Norwegian race, with some excellent alternative race commentary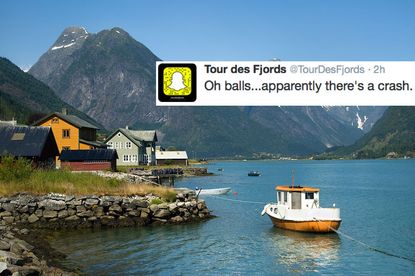 The Tour des Fjords isn't the biggest race in the world, it's possibly not even the biggest race in Norway, but the official Twitter feed is providing some of the best race commentary in the sport.
The race started in Os on Wednesday, with riders en route to Bergen in a rolling first stage, giving the social media person - which the account itself described as a 'lonely housewife' - some great air time.
Rather than the mundane and straight-edge commentary you get from some of the bigger races on the calendar, the Tour des Fjords is providing somewhat of an alternate service, with actual race information thrown in for good measure.
It started well...
...and just got more and more hilarious.
Having spent time tweeting some race predictions, the operator missed a bit of race action
And it seems like this isn't a full time job for whoever is in charge
They tweeted a message of condolence to amateur riders around the area of Fana, who have just seen their Strava times obliterated
The race has some big names in it, such as Alexander Kristoff (Katusha), and the sudden popularity of the event caused the website to crash. But was it due to the increase in traffic or some other funny business?
And the actual race action is well covered as well.
We'll try and keep you updated with the best Fjordisms over the course of the rest of the race, of course.
Thank you for reading 20 articles this month* Join now for unlimited access
Enjoy your first month for just £1 / $1 / €1
*Read 5 free articles per month without a subscription
Join now for unlimited access
Try first month for just £1 / $1 / €1