Bradley Wiggins: 'It's about one colour and it's got to be gold'
Sir Bradley Wiggins says only a gold will do in the team pursuit at the Olympic Games in Rio this August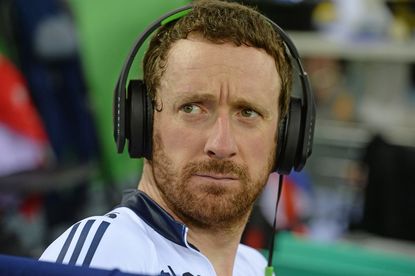 (Image credit: Andy Jones)
Sir Bradley Wiggins says anything but gold will be a "disappointment" in Rio, as he admits he's rethinking retiring at the end of the year as planned.
The 36-year-old was officially named in Team GB's squad for the Rio Games this August, what will be his fifth Olympics since his debut in Sydney in 2000, and will become Britain's most decorated Olympian if he wins any medal. Chris Hoy holds the record with seven – six gold and one silver – while Wiggins currently has four gold, one silver and two bronze.
However, he says he's not thinking about making history and that only a gold will do.
"For me it's about one colour really and it's got to be gold. It's about winning five Olympic gold medals. It's not really a concern about the silvers and bronzes really," Wiggins commented.
"Bronze will be enough to have more medals than anyone else but that's not my motivation, it's about this group going and winning gold. Anything other than that will be a disappointment, a huge disappointment."
The Tour de France winner said he's in such good form he feels he could continue cycling competitively for "another four years" despite previously saying he would retire at the end of 2016. He suggested he could ride at the Track World Championships in 2017 and will continue to train with British Cycling next year.
"I almost think I could go on four another for years physically, whether I will or not is another thing," he said as the team was announced in Manchester. "The likelihood is I will wind down at the end of the year and stop and do other things but I don't want it to be set in stone."
A beginner's guide to the Team Pursuit
>>> Bradley Wiggins rocked up to his local 10mi time trial last night and smashed it
Wiggins last competed on the track at the Olympics in Beijing in 2008, and insisted despite all his achievements since his place in the team pursuit line up for Rio was in no way guaranteed.
"It's been well documented that names count for nothing. 'Can he still do it, he's knocking on a bit, he's 36, there's these lads hungry for it and can he still come in the team pursuit?'. To be able to go through the process and be selected it feels as nice as 16 years ago when I was told I was selected. I'm proud from that point of view."
"I've really stepped up my own individual performance now to doing two and a half lap turns at 3-49 pace from man four," he continued. "Back in Sydney we were on 4-01 pace and I was doing lap turns from man four. I'm a better athlete than I was 16 years ago, or even eight years ago on the track in Beijing."
>>> 'Mark Cavendish can race three-week Tour and Olympics' says Dimension Data
Wiggins will reunite with his Madison world champion partner Mark Cavendish in Rio, after the Manxman was also named in the Rio line up for the omnium and team pursuit.
Although questions have been asked about Cavendish's ability in the team pursuit, Wiggins insisted there was no doubt he could fit into a squad targeting a world record 3-50 time.
"He's shown to everyone now that he's more than capable, that was with balancing training for the Tour de France as well which he's been trying to juggle," he said. "Everyone's been really impressed with his commitment and there's no worries or concerns about whether he can do it now, that's all been put to bed.
"In proving that he can do it they're now thinking well actually we might be able to use him in a semi-final ride."
Thank you for reading 10 articles this month* Join now for unlimited access
Enjoy your first month for just £1 / $1 / €1
*Read 5 free articles per month without a subscription
Join now for unlimited access
Try first month for just £1 / $1 / €1