'Mark Cavendish can race three-week Tour and Olympics' says Dimension Data
Dimension Data's Brian Smith says that they will assess Mark Cavendish's form during the season to decide whether he rides three weeks of the Tour de France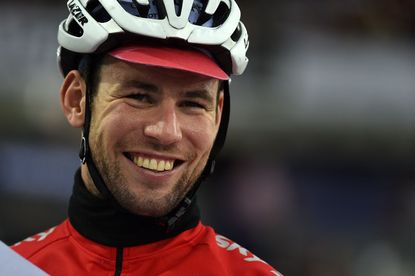 Mark Cavendish can race three weeks of the Tour de France and still win a medal in the omnium at the Rio de Janeiro Olympics, says Dimension Data Team Manager Brian Smith. British Cycling Technical Director Shane Sutton, however, said last weekend that Cavendish would need to abandon the Tour early to have a chance.
Cavendish placed sixth in the London world championships omnium on Saturday and won the Madison with Bradley Wiggins on Sunday. He had aimed for an omnium medal to show he was on track for Rio.
"We have to set down with British Cycling because they are saying that he'll have to stop the Tour de France [early]," Smith told Cycling Weekly. "The Tour de France is a huge event for Dimension Data and Deloitte. We'll look at that and look at what's best for Cav. I think he can do both and he thinks he can do both."
>>> Could this road race loophole give Mark Cavendish an extra route into the Olympics?
Only three weeks separate the Tour de France's final stage in Paris on July 24 from the start of the two-day omnium in Rio de Janeiro on August 14. Sutton said that Cavendish, if he is to race the Olympics, would need to abandon ahead of the final week of the Tour to prepare for the Olympics
In addition to the omnium, Cavendish would need to serve as the fifth man in the team pursuit and be ready to ride at world-record pace. British Cycling favours the team pursuit to the omnium as it is a much more controllable event and offers a great chance of a medal.
"It's obviously that British Cycling is looking at what's best for them but I think that we have to take everything else into consideration and look at the Tour de France. Everyone wants to win on the Champs-Élysées," Smith added.
"We'll take that decision as it comes, but I don't want to think about it now because anything can happen between now and then. If he feels good and he want's to go to Paris, then we'll look at it. If he thinks that he is on his limits and he wants to freshen up for the Olympics, then we'll look at it."
During the Track World Championships in London, Sutton said "100 per cent. Cav won't do three weeks of the Tour. If he wants to medal in Rio, he's well aware that he probably wouldn't be going to Paris."
"That's Shane's opinion, and we take his opinion into consideration," Smith explained. "I have a lot of respect for Shane and we are not saying 100 per cent now that Cav will stop after two weeks. We haven't had that conversation yet. We just have to watch every race he rides. I doubt he'll ride the Giro d'Italia, which is race he rode on in the past. We just have to keep it as light as possible."
Watch: Top five men's WorldTour kits
After Italy's Tirreno-Adriatico stage race this week, Cavendish is due to talk with Dimension Data about his Rio participation and agan with Sutton. He may abandon his Rio project and focus solely on the road, with the Tour de France's yellow jersey and a second road world title in his sights.
If he does ask to race in Rio then it will be up to Sutton and the Olympic selectors to evaluate his track performance so far and decide.
Thank you for reading 20 articles this month* Join now for unlimited access
Enjoy your first month for just £1 / $1 / €1
*Read 5 free articles per month without a subscription
Join now for unlimited access
Try first month for just £1 / $1 / €1