Italy's Bettini sees Olympics as numbers game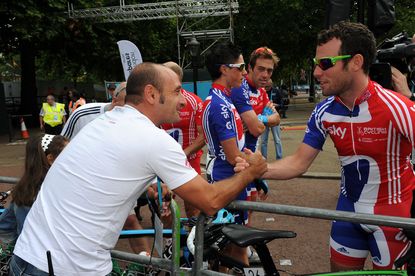 Paolo Bettini sees the Olympic road race coming down to a game of numbers this Saturday. He knows the game well, having won the 2004 Olympic gold medal and now coaching Italy's five-man team.
"Every nation is halved because it has five men, not nine, but the race is still 250 kilometres. There are only 145 cyclists starting: 80 valid, 40 potentially adapted to the course, 20 dreadful, five who can dictate. But these five can't count on full teams, but only on four team-mates," Bettini told La Gazzetta dello Sport newspaper.
Bettini believes nations will unite for common interests and not rely on trade team links.
"I'm concentrated on jerseys and passports. I hope this doesn't come into play because it spoils the Olympic spirit. Certainly, there can be nations with common interests, like Germany with [André] Greipel. Anyway, we can also find allies."
Team Italy: Elia Viviani, Marco Pinotti, Luca Paolini, Vincenzo Nibali and Sacha Modolo
Mantova doping hearings delayed until December
The Mantova doping investigation will linger at least until December 11, the new preliminary hearing date for the 31 individuals named. Team Lampre's management team, including Giuseppe Saronni, and cyclists such as Alessandro Ballan now must wait another five months to learn if they will stand trail.
The hearings centre on Lampre and Guido Nigrelli's pharmacy in Mantova, in northeast Italy. Lampre's staff, including sports directors Fabrizio Bontempi and Maurizio Piovani, reportedly encouraged their riders to visit Nigrelli for prohibited products in 2008 and 2009.
The investigation first came to light in 2010. After hearing the news, Team BMC Racing temporarily suspended Ballan and Mauro Santambrogio. Ballan reportedly used human growth hormone, blood transfusions and EPO in 2009 when he raced with Lampre.
The individuals or their lawyers were present for the original hearing date two weeks ago on July 13, according to the ANSA news agency. After several hours passed, Judge Gianfranco Villani postponed the hearings due to several paperwork errors - missing pages and misspelt names in legal documents. On December 11, lawyers for Italy's Anti-Narcotics Group (NAS) will present their case for the 31 to stand trial.
Hesjedal returns on top
Giro d'Italia champion Ryder Hesjedal returned from his Tour de France crash to win the Roeselare criterium in Belgium on Tuesday. Thomas De Gendt (Vacansoleil-DCM) and Guillaume Van Keirsbulck (OmegaPharma-Quick Step) placed second and third.
Hesjedal (Garmin-Sharp) crashed in the sixth stage of the Tour to Metz. He abandoned the next morning suffering of hematoma to his left leg and hip. The Canadian's first official race back will be the Olympics this Saturday.
Nizzolo gives RadioShack needed win
RadioShack-Nissan took a much needed win in the Tour de Wallonie yesterday. Giacomo Nizzolo won the third leg on Monday and maintained his lead until the Belgian stage race ended yesterday.
"The guys have had to work a lot in these hot temperatures and hilly road," the Italian said in a RadioShack statement, "so this is above all a team victory."
The 23-year-old turned professional last year and won a stage of the Bayern-Rundfahrt.
Luxembourg's RadioShack team suffered in the Tour de France when Fränk Schleck tested positive for diuretic Xipamide. Its riders have also complained of missed payments and general manager, Johan Bruyneel faces doping charges in the Lance Armstrong investigation.
Related links
London 2012 Olympic Games: Coverage index
Thank you for reading 20 articles this month* Join now for unlimited access
Enjoy your first month for just £1 / $1 / €1
*Read 5 free articles per month without a subscription
Join now for unlimited access
Try first month for just £1 / $1 / €1