London's Olympic velodrome - construction underway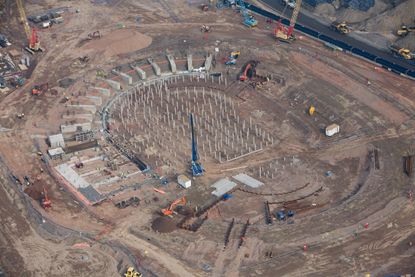 The Olympic Delivery Authority has this week released pictures showing the work in progress on London's velodrome.
While the main Olympic stadium already has sections of its roof in place, the velodrome is just getting its foundations put in; ODA officials say it will be completed in 2010.
A set of aerial shots have been released to the press just as the ODA prepare for a visit from the International Olympic Committee's Coordination Commission.
ODA chairman John Armitt said in a press release: "Construction has now started on all of the Olympic Park's 'Big Five' venues and it is clearly visible how much progress has been made on the site since the IOC Coordination Commission visited last year."
"The Olympic Stadium has changed the east London sky line, the Aquatic Centre roof is starting to take shape and the first residential blocks for the Olympic Village are out of the ground."
"As well as constructing new world-class venues, work is steadily taking place on creating the new infrastructure that will be the backbone of the Olympic Park for both the Games and the development after 2012. New energy and sewer networks, roads, bridges and revitalised waterways and new urban parklands will join together to create a new part of London."
"Seeing the Olympic Stadium and other venues on the Olympic Park taking shape is really exciting. These are world class facilities which will leave a lasting legacy for elite athletes and the community."
Picture shows the pile caps of the foundations. The distinctive oval shape of a velodrome is already there.
The main Olympic stadium is already looking impressive, even if it is surrounded by a sea of mud
The real size of the Olympic park can only be seen from the air
How many golds will British cyclists win in this building in three years' time? All pictures courtesy of Getty/ODA
RELATED LINKS
Thank you for reading 20 articles this month* Join now for unlimited access
Enjoy your first month for just £1 / $1 / €1
*Read 5 free articles per month without a subscription
Join now for unlimited access
Try first month for just £1 / $1 / €1