Millar gives reaction to Olympic Games selection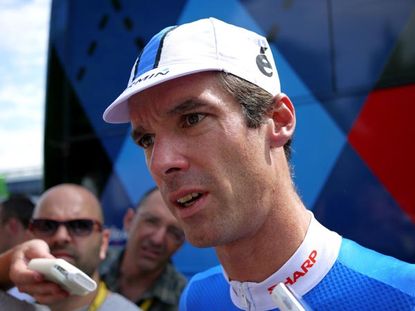 David Millar will represent Great Britain at the Olympic Games at the end of this month, his first time back at the Games after serving a ban for doping.
"I didn't even know what the selection was until I saw it on Twitter this morning. It's exciting, I can start arranging my post-Tour de France now," the Scot said.
"It means a lot. It was an event I wrote off many years ago. I already missed two, the first one I was in a drunken haze and far away from the world of sport. In Beijing it was hard to avoid how hard it was not being there."
Millar served a ban after admitting he used blood booster EPO. Since returning to the sport, he's been out-spoken in helping push for clean competition.
He spoke to a group of journalists this morning at the team Garmin-Sharp bus ahead of the fourth leg of the Tour de France. The stage is flat and suits sprinter Mark Cavendish (Sky). Cavendish relied on Millar's help as part of the British team in September to win the World Championships road race in the in Copenhagen
The British Olympic Association (BOA), however, had prevented him from racing the London Games. Its bylaw enforced a lifetime ban of dopers.
The World Anti-Doping Agency (WADA) ruled the bylaw was not compliant with its code. The BOA appealed WADA's decision to the Court of Arbitration for Sport (CAS), but saw it rejected in April. Afterwards, the British selectors and team decided it was worth having Millar in the road race team.
"I've put a lot of thought into it and been very rational, spoken to a lot of people and... There was never a situation for me where it was like, 'Yeah! I'm going to the Olympics!' It's been a case of should I go, do people want me to go. It's more of a duty than anything else," Millar said.
He will race only the road race and not the time trial. He said that there is no extra stress with the attention on him.
"The stress is on us as a team to do what we do best. If we are ever going to do that, we are going to do it on home ground at the London Olympics," Millar continued. "We weighed it up. I like to think the tide has turned slightly. People are starting to understand more my full story and my reasons for going. I hope that will calm that negative turmoil beforehand."
Related links
British Olympic men's road race team announced
Thank you for reading 20 articles this month* Join now for unlimited access
Enjoy your first month for just £1 / $1 / €1
*Read 5 free articles per month without a subscription
Join now for unlimited access
Try first month for just £1 / $1 / €1