New 50p coin to feature cyclist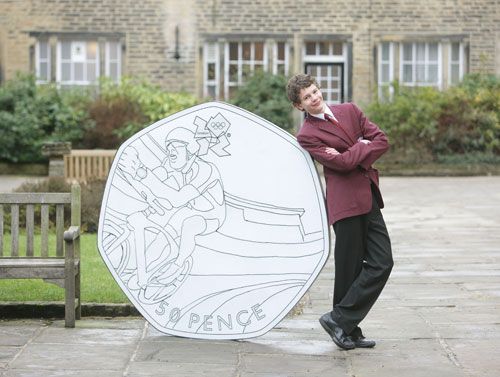 A Halifax schoolboy cyclist has beaten 3,000 other entries to win a Royal Mint design competition to create a cycling themed 50 Pence coin in celebration of the London 2012 Olympic and Paralympic Games.
Theo Crutchley-Mack, 16, took part in a nationwide secondary school competition organised by the Royal Mint. His winning design was announced this morning, at his school, Rishworth, who won the £10,000 first prize. The design features a track rider at speed in a velodrome.
"I'm still in shock," said Theo. "I think I need a bit more time for it to sink in. To imagine my coin design is going to be in everyone's hands is unbelievable. I've just finished my GCSE mock exams and I wish I'd have known about this earlier - I could have used my coin design as part of my GSCE art coursework! I'm really looking forward to going to the Royal Mint next week to see my coin being produced."
He is the first teenager to have designed a circulating British coin.
Dave Knight, The Royal Mint's Head of Commemorative Coins, said: "Theo is passionate about cycling and it showed in his design. The judges were impressed by the sense of speed, drama and excitement he managed to capture in his entry."
Theo's design is the second in a series of 29 officially licensed London 2012 50 Pence commemorative coins, all designed by the public and depicting different Olympic and Paralympic sports.
His headmaster, Richard Baker, said: "What Theo has achieved is truly exceptional and we feel that the wider community should benefit from this win. We're talking to Theo about how to do this, including helping local, not-for-profit cycling clubs in the area, like Theo's club, Pedal Sport."
Pedal Sport Cycling Club grew out of the shop of that name owned by former cyclo-cross rider Mark Rusby, 37, a British Cycling Level 2 coach. The club is four years old and British Cycling Go-Ride accredited and has 40 under-16 and 70 senior members.
Rushby said: "We're absolutely thrilled by the news. Theo is a strong, skilled and enthusiastic cyclist - he even started assisting the coaches who take the younger classes.
"Cycling is a great sport and any help Pedal Sport receives to encourage local children into the sport will be fantastic. And who knows, perhaps one day, thanks to Theo, someone from our club will make it to the Olympic Games or Paralympic Games themselves."
Theo's cycling coin design will appear on millions of coins due to go into circulation from September.
Theo Crutchley-Mack with his new 50p coin design