Olympic athletes forced to pay for own air conditioning as Rio 2016 slashes budget
Athletes will have to pay for the air conditioning in their rooms as the Brazilian economic crash leads to cost-cutting by organisers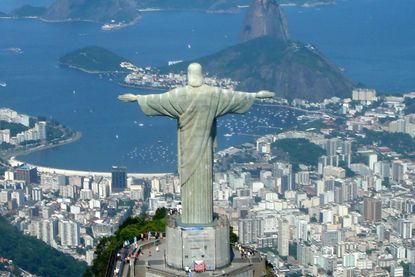 Athletes at the Rio 2016 Olympics will be forced to pay for their own air conditioning in the Olympic Village, as Games organisers attempt to cut expenses in the aftermath of an economic collapse in Brazil and spiralling costs.
"The goal here is to organise games without public funding and to organise games that make sense from an economic point of view," Rio 2016 spokesman Mario Andrada said.
Former athletes have criticised the plans to cut amenities such as air condition for athletes, saying it will damage the quality of performances and ultimately lessen the spectacle of the Olympics.
"The world wants to tune in and watch the world's greatest athletes compete at the absolute highest level," Nick Symmonds, who competed in the 800m at the 2008 and 2012 Olympics, finishing fifth in London, told Bloomberg.
>>> Vincenzo Nibali could use Tour de France as training for Olympics
"If you don't provide them with good food, a good place to sleep and comfortable temperature, they won't be able to recover and bring the A-plus product that the world is demanding. To cut the budget on athletes' hospitality and comfort, that's just going to cheapen the games."
Others have spoken out about the inequality between athletes that will result from forcing competitors to pay for amenities, with the USA basketball team reportedly already choosing a luxury hotel over Olympic Village accommodation.
"Some people aren't going to put up with it because they don't have to, some will have to because perhaps there is no alternative," said Rick Burton, the former marketing director for the US Olympic Committee.
"Is the IOC going to feel obligated to step in and raise the standards so that everyone is treated equally? Or is it going to be a statement, that this is the best this host country can do?"
>>> Armitstead: I'm not the favourite for brutal Rio Olympics road race
The Brazilian Real has lost one-third of its value against the dollar in the last year, according to Bloomberg Business, with unemployment climbing to more than eight per cent in July of this year.
The Brazilian government had pledged $700m for any budgetary overspend, but that was before the economy crashed and now organisers are desperately searching for ways to pare down costs with the event expected to go at least two billion Real ($520m) over budget.
Bloomberg's report estimates the total costs of the Games to be 39bn Real ($10.2bn), however a report by Americas Society/Council of the Americas from this August estimates the total costs to be more than $11bn.
Organisers expect to earn 7.4bn Reals ($1.9bn) from sponsorships, ticket sales and a grant from the International Olympic Committee during the games, but will also be conscious of the mass protests against lavish spending on the football World Cup in 2014, especially with the country now stuck in recession.
Thank you for reading 20 articles this month* Join now for unlimited access
Enjoy your first month for just £1 / $1 / €1
*Read 5 free articles per month without a subscription
Join now for unlimited access
Try first month for just £1 / $1 / €1