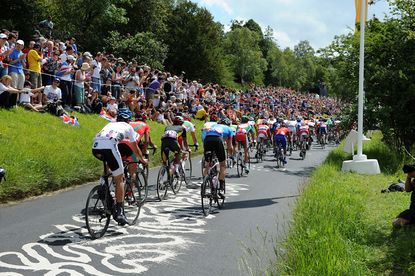 It almost felt like a wake back in the bar of the Burford Bridge hotel after today's Olympic road race.
In comfy chairs around the lounge and sat on the lawn out back, disappointed spectators dissected the day's tactics.
To add insult to injury, instead of Cavendish, it was cycling's own Bond villain who'd prevailed on The Mall. Was there a payoff? Will he fail a test? Vino's never shown the slightest hint of repentance, they noted.
But while the end result perhaps left a funny taste in the mouth, it had by and large been a most enjoyable day out on the roadside.
It didn't rain, the sun even shone, people descended on the race in their droves.
Up on Box Hill behind the hotel, it felt like a corner of rural France on a hot transition day of the Tour
Spectators lined the recently laid, tarmac three or four deep as kids and adults alike scrawled names in chalk on the surface.
To either side of the road, scrubby banks reared up through the trees. Amongst these, punters had spread rugs and waited for the race, eating picnics.
When it came through, they cheered on both front runners and back markers alike.
The crowds out there were "magic" David Millar later told the BBC.
Union flags were draped everywhere and we lost count of the number of fans sporting stick-on Brad Wiggins sideburns. Several spectators found lofty perches for their own unique perspective on the action.
In the intervals between the race's nine ascents of the climb, kids slipped off into the undergrowth to play.
As idyllic as all this may sound, there was also a slightly weird dynamic to the crowd on Box Hill.
With LOCOG limiting access only to those who got their hands on tickets, many hardcore fans were denied a spot where they would have liked to have been.
While there was still many a true follower watching on the course's main focal point, more casual fans perhaps diluted the atmosphere.
By laps four or five, some of these had already given up on watching the race.
Having seen what they'd come to see (the Olympics, some of that cycling, that Wiggins fella) they'd stay sat on their rug, reading a book or napping.
By the end of the fifth lap, some of them were already leaving.
"To be honest with you mate," one punter told us at the exit, "I'm bored s**tless."
Thank you for reading 20 articles this month* Join now for unlimited access
Enjoy your first month for just £1 / $1 / €1
*Read 5 free articles per month without a subscription
Join now for unlimited access
Try first month for just £1 / $1 / €1