Trott on top: London 2012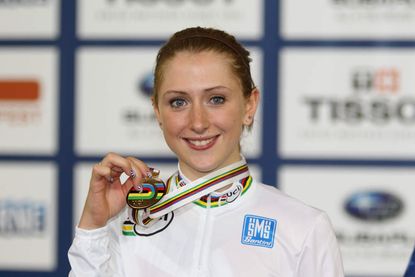 When the London velodrome hosted a test run for the Olympics with a World Cup round in February, few performances quite thrilled the crowd like Laura Trott's ride in the elimination race.
While Chris Hoy impressed with his thundering awe in the Keirin and Victoria Pendleton and Jess Varnish dazzled in the team sprint, Trott had the crowd convinced she was on the verge of elimination, only to 'pop off' her rivals one by one and eventually sweep the floor with all of them.
It was a tantalising, tenacious but self-assured performance from a young rider who is fast emerging as Britain's next track superstar. Do that again at the Olympics and she'll steal the heart of a whole nation.
Her method in this knockout discipline, which is one of the six rounds of the omnium, went completely against conventional wisdom. Whereas coaches argue it best to employ one's strength and stay near the front to avoid the withdrawal that befalls the last rider across the line every other lap, Trott took the more exciting if dicier option of sheltering near the rear then sprinting her way out of trouble every time the crunch came.
"I've always wanted to ride the race that way because that seemed easier to me," says Trott. "But I hadn't really done it before because my coach said it was so risky, it was not worth doing."
Trott's win in the elimination race raised the atmosphere in the velodrome to fever pitch and helped her secure a bronze medal in the omnium in that meeting. In Melbourne, Australia, a little over a month later, she successfully repeated the tactic and, as usual, also blitzed the 500 metre time trial on the way to winning the World Championship.
For an event that has so many variables, Trott is remarkably consistent in the omnium. Of the last four international competitions she's ridden, she has won three of them - beating considerably older and more experienced riders. She attributes success in this test of all round ability to having started track cycling so young.
"When I was younger, between under-12 and under-14, the omnium was the only national event you could do," she recalls. "You had to be good at it or else you weren't going to be a national champion. On the track you're only choice was to be an omnium rider or nothing at all."
Yet despite Trott's clear talent for the event, she doesn't specifically train for its variety of disciplines and considers it a bonus event that comes second to the Team Pursuit.
"That's my favourite now because I like winning with the team," she discloses. "I mean it's great when you win on your own in the omnium, but you don't have anyone to celebrate it with.
The full version of this article is in Cycling Weekly's Essential Fan's Guide to Cycling at the Olympic and Paralympic Games, on sale now
Related link
Laura Trott: Rider profile - includes biography, results and photos
Cycling Weekly's Essential Fan's Guide to Cycling at the 2012 Olympic and Paralympic Games is on sale now at WHSmith, major supermarkets, all good newsagents and the Cycling Weekly online shop priced £9.99. Full contents list>>


Thank you for reading 10 articles this month* Join now for unlimited access
Enjoy your first month for just £1 / $1 / €1
*Read 5 free articles per month without a subscription
Join now for unlimited access
Try first month for just £1 / $1 / €1