World's best BMXers in London test event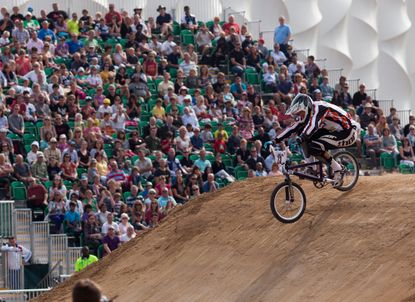 The best elite BMX riders in the world descended on east London today to try out the brand new, purpose-built BMX track designed for next year's Olympic Games.
As part of the London Prepares series, the track is hosting a round of the prestigious UCI BMX Supercross events as a trial run for London 2012, and the race is one of the first events to be staged in the Olympic Park itself.
Sell out crowds sat in the shadow of the gorgeous 6,000-seater Velodrome as BMX racers negotiated features that included huge gap jumps, tarmac bermed corners, and rhythm sections - continuous lumps and bumps where it's impossible to pedal.
With speeds touching 70kmh at the foot of a huge start ramp, the 450 metre track required immense skill and challenged riders on both a mental and physical level.
Today's one lap solo time trail determined a ranking position that allows for a start gate preference, but is essentially a warm up before the eight man or woman head to head main events.
Intermittent headwinds caused some issues and accidents on the enormous first straight, with several highly ranked competitors affected by sporadic gusts. (Winds can play havoc with riders whilst they are flying through the air when some of the jumps measure over 10m long!)
Britain's Olympic hopeful, Shanaze Reade, wasn't quickest against the clock, but still qualified comfortably. Australia's Sam Willoughby recorded the men's fastest lap time.
(The event is broadcast live on www.freecaster.com)
Related links
Olympic road race test event: Report card
Cavendish wins London-Surrey Cycle Classic
London-Surrey Cycle Classic photo gallery
London-Surrey Cycle Classic: The Big Preview
Box Hill set for Olympic test event
Box Hill declared limited access for Olympic road race
Thank you for reading 5 articles this month* Join now for unlimited access
Enjoy your first month for just £1 / $1 / €1
*Read 5 free articles per month without a subscription
Join now for unlimited access
Try first month for just £1 / $1 / €1