One Pro Cycling team apologises over CiCLE Classic finish-line controversy
Dan Fleeman wins Rutland-Melton International CiCLE Classic for local team Metaltek-Kuota - One Pro rider Hayden McCormick gives Fleeman one-finger salute on the line in protest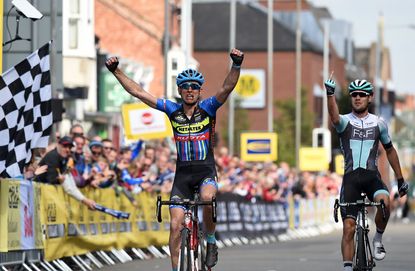 (Image credit: Andy Jones)
Dan Fleeman (Metaltek-Kuota) took the biggest one-day victory of his career, upsetting the odds and his rivals to clinch the Rutland-Melton International CiCLE Classic, which ended in controversy.
The 34-year-old jumped across to the winning move late in the race, joining New Zealand-born One Pro Cycling rider Hayden McCormick at the head of the race before edging to victory in a thrilling sprint finish.
The Kiwi showed his disgust at losing the sprint finish to the former pro with a one-fingered salute in front of the cameras and hundreds of fans in Melton Mowbray.
"With a few kilometres remaining he said to me 'are you going to sprint?'," explained Fleeman. "But I thought he said to me 'can you sprint?' and I responded no because I can't but with 300 metres to go I jumped.
"I don't know what he thought I was going to do as it's the biggest one-day race in the country, of course I'm going to sprint."
One Pro Cycling have released a statement about McCormick's behaviour.
It said: "The management of ONE Pro Cycling are obviously fully aware of the incident with one of our riders, Hayden McCormick at the finish of today's Rutland-Melton International CiCLE Classic.
"On behalf of the team we would like to apologise to the race organisers, Dan Fleeman and the Metaltek-Kuota team and all cycling fans and supporters for any offence caused.
"This behaviour will not be tolerated and the matter is being dealt with very seriously."
It was a huge victory for 34-year-old Fleeman and the domestic Metaltek Kuota team, who are based in the finishing town and dedicated the win to the team's owner Andy Swain.
Fleeman added: "It was Andy who talked me into racing again as I had become pretty despondent, and since then I have got the love back for road racing."
Dubbed 'Britain's Belgium Classic' the 118-mile event is the Paris-Roubaix of the British cycling scene with 180 riders including 10 foreign registered teams tackling a variety of challenging tracks and lanes Leicestershire.
After a frantic opening 50 kilometres a strong breakaway of eight riders established itself at the head of affairs, consisting of a mixture of British domestic based riders and visiting professional teams.
As the race reached its conclusion the reduced breakaway saw its gap shrink from over two minutes to a handful of seconds.
Matt Holmes (Madison Genesis) decided to go solo in search of a memorable victory on the final finishing circuit.
He was eventually joined by McCormick before Fleeman also jumped across the slender gap and the fresher pairing distanced valiant Holmes to contest the victory.
Brenton Jones (JLT Condor) was one of many unfortunate riders who suffered punctures on the infamous gravel sections but got back into the bunch and won the sprint for third.
Result
Rutland-Melton International CiCLE Classic 2017
1. Dan Fleeman (Metaltek-Kuota)
2. Hayden McCormick (One Pro Cycling) same time
3. Brenton Jones (JLT Condor) at 5sec
4. Rory Townsend (Bike Channel Canyon)
5. Jonny McEvoy (Madison Genesis)
6. Przemyslaw Kasperkiewicz (An Post-Chain Reaction)
7. Zach May (Metaltek-Kuota)
8. Steele Von Hoff (One Pro Cycling)
9. Sam Lowe (Bike Channel Canyon)
10. Jacob Scott (An Post-Chain Reaction) all same time
Thank you for reading 10 articles this month* Join now for unlimited access
Enjoy your first month for just £1 / $1 / €1
*Read 5 free articles per month without a subscription
Join now for unlimited access
Try first month for just £1 / $1 / €1